Comfort Keepers receives CICOA Impact Award for Support of Programs and Services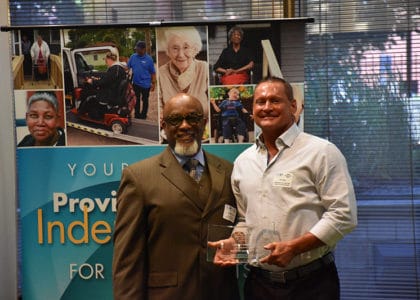 Providing in-home care to clients is a vital part of the work CICOA Aging & In-Home Solutions does to help low-income seniors and people with disabilities live as independently as possible. Comfort Keepers Indianapolis has been filling that role since 2011. The Indianapolis home health care company, though, has been doing a lot more behind the scenes to support the important work of CICOA.
In 2014, Comfort Keepers joined CICOA as the title sponsor of the 18 Millionth Meal Celebration at the Indianapolis Motor Speedway, celebrating a milestone in CICOA's meal program. The following year, Comfort Keepers joined the list of sponsors of CICOA's annual fundraising breakfast and has been the title sponsor since 2016. In total, the company has invested $55,000 to support CICOA and the services it provides to the community.
"When you get two groups who work this well together, it just makes servicing the client that much easier and that much more rewarding," said Tim Paul, owner of Comfort Keepers Indianapolis. "I'm happy to support CICOA because the work CICOA does is unrivaled across the state. I'm just proud to be part of it."
During CICOA's annual meeting, CICOA presented Comfort Keepers with its Impact Award, given to honor donors whose philanthropic contributions have made a significant and positive impact on the nonprofit's programs and services.
"Comfort Keepers has become a true partner with CICOA working alongside us to help care for the needs of the growing senior population and people with disabilities," said Mary Durell, CICOA's interim president.