October 6, 2021 @ 8:30 am
-
12:30 pm
Northminster Presbyterian Church
1660 Kessler Blvd. E. Dr.
Indianapolis,
IN
46220
United States
CICOA's 1st Aging Advantages Summit will address how valuable senior volunteers are to our society and faith communities, as well as offer creative ways older adults can remain active.
This free event is being presented both in-person and virtual via Zoom. 
At the end of 2020, about 28.6 million Baby Boomers reported being out of the labor force due to retirement. Embarking into a new season of retirement can be exciting and a bit scary. Deciding how to stay relevant after a long career can be challenging. The Aging Advantages Summit will explore the options available to adults once they retire.
Active community engagement is vital to one's wellbeing with cognitive, physical and emotional health benefits. According to the State of Aging in Central Indiana report, older adults tend to connect to their community through relationships with friends and family and through religious activities. Volunteering also keeps older adults active in the community and reduces social isolation. Come hear about the many volunteer opportunities available - your time and talent are needed!
Who is the Summit for? Professionals working with older adults, faith communities, people age 55 and over, and volunteers.
Get your free ticket and join us to celebrate the advantages of aging and support seniors in our community!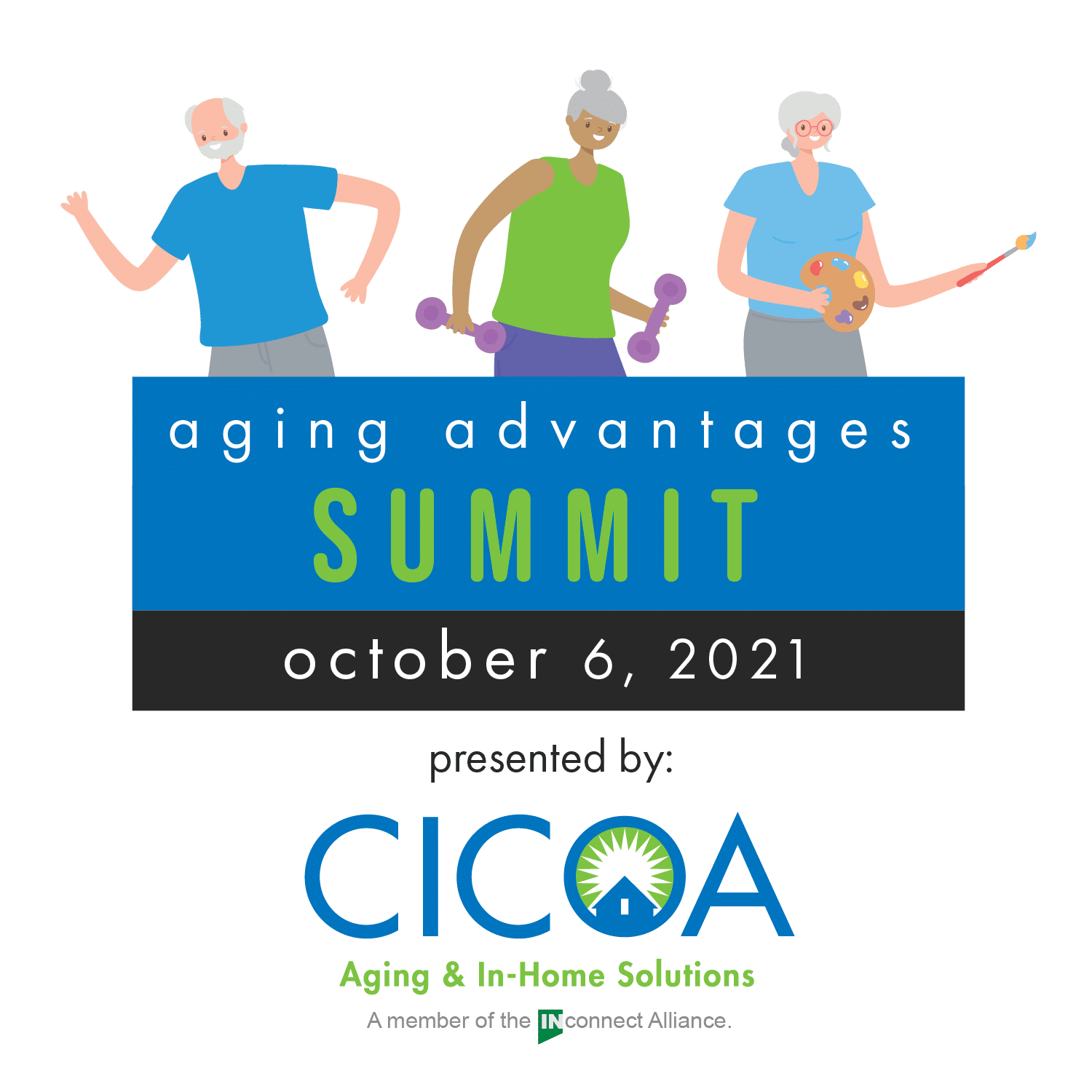 Time
Presentation
Speaker
8:00-8:45 a.m.
Registration
Coffee, water and danishes available
8:45 a.m.
Welcome

CICOA Aging & In-Home Solutions


Tauhric Brown, President & CEO
8:50 a.m.
Moderator

CICOA Aging & In-Home Solutions


Denise Jones Harrington, Faith Partnership Coordinator
9:00 a.m.
Why we volunteer and advantages to Alzheimer's Association

Alzheimer's Association


Ralph & Mollie Richards, Volunteers
Hadya Sow, Senior Program Manager
9:10 a.m.
Volunteers in faith communities

IU Health


Jay Foster, VP Spiritual Care


Community Health Network


Lisa Fleetwood, MSN, RN, Faith Community Nurse


Christ Missionary Baptist Church


Sherry Jackson, Volunteer & Member
9:35 a.m.
Retired & senior volunteer program / RSVP & senior companions

Catholic Charities


Monica Woodsworth, RSVP Director
Joyce Beaven, Senior Companion Associate Director
9:55 a.m.
Staying engaged and aging sucessfully

Indianapolis Oasis Lifelong Adventure


Angela Pellman, Program Manager
10:05 a.m.
Break
10:20 a.m.
Nutrition, mental health & self-care

CICOA Aging & In-Home Solutions


Tiffany Cox, Registered Dietician
Kristen Phillips, AmeriCorps VISTA - Nutrition and Dementia Services Coordinator
10:35 a.m.
Avatar (Buddy)

IU School of Medicine


Jeanetta Brown, PhD
10:50 a.m.
Importance of cognitive maintenance/volunteering

Dementia Friends Indiana


Melinda Winnie, Dementia Education Specialist
11:05 a.m.
Volunteer panel

Joy's House, Alzheimer's Association, CICOA Aging & In-Home Solutions

11:25 a.m.
9 dimensions of wellness / laugh yoga

University of Indianapolis


Julie E. Gahimer, PT, HSD
12:15 p.m.
PowerPoint of volunteers

Joy's House, Alzheimer's Association, CICOA Aging & In-Home Solutions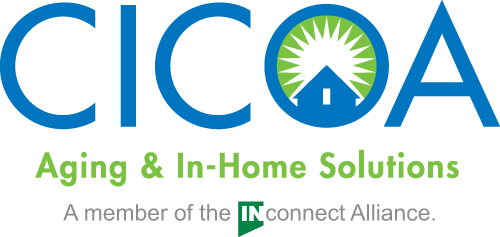 Alzheimer's Association Greater Indiana
American Senior Communities
Anthem
BrightStar Care
Catholic Charities Indianapolis/AmeriCorps Seniors
Chef for Hire
CICOA Meals & More
Dementia Friends Indiana
Eastgate Christian Church
Guardian Angel Hospice
Hearing Loss Association of America Indianapolis Chapter
Hearing Solutions of Indiana
Home Instead Senior Care (Boiler & Buckeye Group)
Humana Insurance
Indiana University School of Medicine
Joy's House
Main Street Hospice
Meals on Wheels of Hancock County
Oasis Senior Advisors
Perry Senior Citizens Services
PrimeLife Enrichment
RadioNext
SHIP (State Health Insurance Assistance Program)
Stinson Law Firm, LLC