Aging Advantages Faith Summit
October 5, 2022 @ 9:00 am
-
1:00 pm
950 S White River Pkwy W Dr
Indianapolis,
IN
46221
United States
How can faith communities keep older members engaged? CICOA's 2nd annual Aging Advantages Summit will address this topic and ways to enrich the lives of seniors in our community.
Who should attend? Faith, religious and spiritual leaders and anyone in ministry, as well as lay persons who are eager to learn about ways to serve older adults.
Join us to discuss the various ways faith communities have responded to the needs of older adult members during COVID and will continue following the pandemic.
In the morning, a panel of faith leaders will share their experiences and creative ways to re-engage seniors after the pandemic rapidly shifted us to a virtual environment. After lunch, a panel of doctors and healthcare providers will discuss the needs of seniors in terms of safety and wellness.
Lunch will be provided to all attendees, as well as coffee and beverages in the morning.
Be sure to check out the exhibitor fair and get connected to resources!
Get your free ticket and join us to celebrate the advantages of aging and support seniors in our community!
The Summit is sold out, and registration is now closed.
Time

Presentation

Speakers

9:00 a.m.
Registration and Exhibitor Fair
Refreshments available
9:30 a.m.
Welcome
Tauhric Brown, President & CEO


CICOA Aging & In-Home Solutions

9:45 a.m.
Faith Leaders Panel
Moderator: Harold "HB" Brown,

Radio Next

Pastor David Greene, Purpose of Life
Pastor James Carroll, Greater Shepherd Missionary Baptist Church
Steve Hemlich, St. Mark Catholic Church
Jay Foster, IU Health Congregational Care

10:30 a.m.
Q&A
10:45 a.m.
Break and Exhibitor Fair
11:15 a.m.
Buffet Lunch
11:45 a.m.
Healthcare Panel
Moderator: Tauhric Brown,

CICOA Aging & In-Home Solutions

Dr. Sophia Wang, Indiana Alzheimer's Disease Research Center
Dr. Robert Russell, Internal Medicine & Geriatrics
Dr. Kofi K. Quist, Geriatric Medicine, IU Health
Dr. Omolola (Lola) Adeoye-Olatunde, Assistant Professor of Pharmacy Practice, Purdue University

12:30 p.m.
Q&A
1:00 p.m.
Adjournment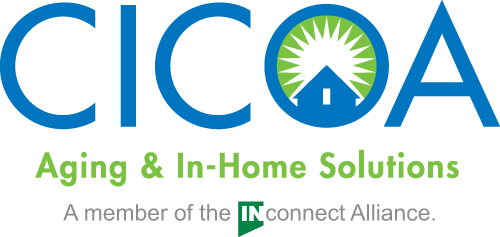 A1 Personal Services Agency, LLC
Always Care Indiana, LLC
Alzheimer's Association
Catholic Charities Indianapolis - AmeriCorps Seniors
Consistent Care Transit LLC
CICOA Meals & More
Dementia Friends Indiana
Hearing Solutions of Indiana
Indiana Alzheimer's Disease Research Center
Indiana Parkinson Foundation
Indiana University School of Nursing: CARE Study
IU Health Connected Care
PrimeLife Enrichment
Radio Next
Silent Voices Home Care