April 21, 2022 @ 9:00 am
-
10:30 am
CICOA Aging & In-Home Solutions
8440 Woodfield Crossing Blvd.
Indianapolis,
IN
46240
United States
2021 CASOA Survey Results for Central Indiana
Presenter: Tauhric Brown, President and CEO of CICOA Aging & In-Home Solutions
Older adults in Central Indiana do not feel valued, according to the 2021 Community Assessment Survey for Older Adults (CASOA), a study commissioned by the Indiana Division of Aging and CICOA. The survey of people aged 60 and older in Boone, Hamilton, Hancock, Hendricks, Johnson, Marion, Morgan and Shelby counties late last year found Central Indiana falling short of national benchmarks in the following areas: transportation, community quality, recreation, community participation, housing and employment.
In this Envision Lecture, Tauhric Brown shares findings from the 2021 CASOA survey, which will be followed by an open-floor discussion.
This is a hybrid event – presented both in-person and virtually. Use the registration form below if you plan to attend in-person at CICOA, or register here to attend via Zoom. The recording, slides and reports will be emailed to all attendees.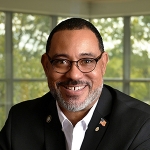 As President and CEO, Tauhric Brown uses his strategic vision and experience in the elderly and disability service industry to expand CICOA services and collaborative partnerships to better meet the needs of the vulnerable populations we serve. Before joining CICOA, Brown served as the chief operating officer for Senior Services, Inc. in Kalamazoo, Mich. His career started in the U.S. Army, and then he became a successful owner/operator for a multi-carrier wireless retail company. Inspired by his family and upbringing, he made the switch to the nonprofit world to fulfill his dream of improving the lives of others.