September 22, 2022 @ 1:00 pm
-
2:30 pm
CICOA Aging & In-Home Solutions
8440 Woodfield Crossing Blvd.
Indianapolis,
IN
46240
United States
Health Equity for Individuals with Disabilities and the Aging Community
Presenters: Dr. Jerome Adams and Dr. Jasmine D. Gonzalvo, Purdue University
In this Envision lecture, Dr. Jerome Adams, former U.S. Surgeon General, and Dr. Jasmine Gonzalvo will discuss health equity in individuals with disabilities and the aging community and review health disparities data and literature to support evidence-based initiatives, such as Community Health Workers (CHWs), that help mitigate existing health disparities. The CICOA team will briefly share a description of recent initiatives and relevant data related to health equity.
After the lecture, guests will have the opportunity for Q&A in an open-floor discussion.
In-Person | Online
This is a hybrid event – presented both in-person and virtually. The recording and slides will be emailed to all registered attendees.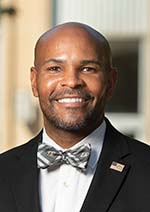 Dr. Jerome Adams was appointed as a Presidential Fellow and the Executive Director of Purdue's Health Equity Initiatives on October 1, 2021. He is also a Distinguished Professor of Practice in the departments of Pharmacy Practice and Public Health. As the 20th U.S. Surgeon General and a prior member of the President's Coronavirus task force, Dr. Adams has been at the forefront of America's most pressing health challenges. Dr. Adams is a licensed anesthesiologist with a master's degree in public health, and ran the Indiana State Department of Health prior to becoming Surgeon General. In addition to his recent COVID19 work, Dr. Adams has partnered with and assisted organizations as they navigate the opioid epidemic, maternal health, rising rates of chronic disease, the impacts of rising suicide rates in our Nation, and how businesses can become better stewards and stakeholders in promoting community health.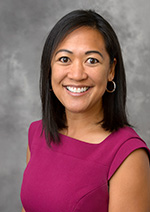 Dr. Jasmine D. Gonzalvo, PharmD is the Chris and Theresa Dimos Director of the Center for Health Equity and Innovation and a Clinical Professor in the College of Pharmacy at Purdue University. She provides cardiovascular risk reduction medication management services for diabetes, hypertension, dyslipidemia, and tobacco use disorders at Eskenazi Health Pecar Health Center for a largely LatinX/Hispanic population in a Federally Qualified Health Center. She has served on and chaired national Boards for diabetes organizations. She is active in advocacy efforts at the State and Federal levels, most recently having served on the National Clinical Care Commission charged with making recommendations to improve diabetes across federal programs. Her research interests relate to community health workers, cardiovascular risk reduction in disinvested populations, integration of the Spanish language into practice and academic settings, and diabetes self-management education and support in the pharmacy setting. She has received a variety of awards highlighting her excellence in practice and teaching throughout her career.