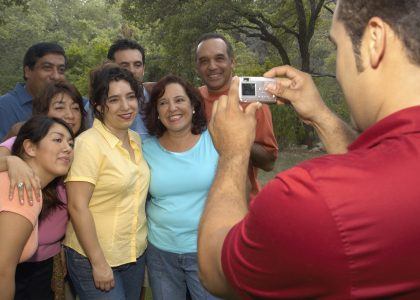 Ah, summertime…that long-awaited season of warmest weather, outdoor activities, trees and flowers in full bloom, fresh berry cobbler, and the famous—or infamous—family reunion.
Are you planning a reunion of your extended family this summer? You won't have difficulty finding interesting destinations and activities. A two-second Google search for "family reunion" will render 2.6 million sources for ideas ranging from rationale, food and themes to nametag designs, quotes for look-alike tee shirts, and certificates of award for special feats (think pie-eating and longest hand-stand contests). In terms of planning and preparation—not to mention cost—today's family reunions are closing in on extravagant weddings!
Whether it's an elaborate week-long gathering in Orlando or a Saturday afternoon at the park or bowling alley, forget the details for a moment and consider the actual time spent with family you may not have seen in awhile. How have things changed since your last gathering? Be alert to changes especially among the elderly or those with a disability or serious illness that might require some accommodation, e.g. hearing or vision impairment, confusion, or difficulty juggling a plate, beverage and silverware along with the walker or cane. Pride might prevent them from asking for help, but your anticipation of the need, along with the simple kindness of actually helping, attests to the value of each person present, making it a true family event.
On another note, Jeff Foxworthy is credited with having said, "I wish I could relate to the people I'm related to." Maybe you can (ahem) relate to that! Every family has its jagged edges, and nowhere are these more concentrated and glaring than when everyone gets together on that incomparable stage of the family reunion. In spite of all of the jagged edges and complicated relationships, each of us has both the opportunity and responsibility to focus on what really matters. Each of us can ask ourselves, "What's really important here? What do I want the children and young adults to take away from this event and remember into adulthood? What will the young people observe, process and remember about specific individuals and this particular gathering of family?"
Will it be that they had the right design of nametag or tee shirt—or that there was a lot of laughter, stories, love and mutual affirmation? May it be the latter!
Wishing you a wonderful reunion!