There are lots of good days. The days when Jeremy and Amanda Brehm take Jonah to the Indianapolis Zoo and watch as their 3-year-old presses his little hands against the glass trying to get the attention of the orangutans. It's a good day when the family walks around the zoo, Jonah on Jeremy's shoulders, just like lots of fathers and sons. Good days are when they take Jonah to an indoor sensory playground in Shelbyville, where he's mesmerized by the bright colors that light up when he pushes buttons. A good day is when Amanda cuddles with her toddler on the sofa reading stories or watching the umpteenth episode of Charlie's Colorforms City, his favorite show because of the vivid colors.
"I always thought I'd be the mother that said no to TV," Amanda said with a laugh.
That was before Jonah was born. Jeremy and Amanda had been married less than two years when Jonah was born five weeks early in September 2016. Amanda had a textbook pregnancy until she reached 34 weeks, when she noticed the baby wasn't moving much. Everyone told her not to worry, but her instincts said otherwise. By 35 weeks, she couldn't feel him move at all. She called the doctor and went in for an ultrasound. Jonah wasn't fine. He was born that day and spent the next several months in the neonatal intensive care unit at Community South and then at Riley Children's Hospital.
Lots of bad days followed. They learned Jonah had Lowe Syndrome, a rare condition characterized by intellectual and physical disabilities, kidney issues and serious vision problems. Jonah still gets about 95 percent of his nutrients through a feeding tube.
It was rough seeing their newborn in the hospital and learning about his condition, not to mention navigating how to care for an infant with more needs than most. Those early months are a blur. Amanda doesn't remember how she found CICOA Aging & In-Home Solutions; she just knows someone from the nonprofit called offering help. She told the case worker she and her husband needed to work full-time to make ends meet. And then there were the hospital and doctor bills, piled up at least four inches high. They probably added up to $1 million dollars, maybe more, Amanda said. She didn't know where to begin.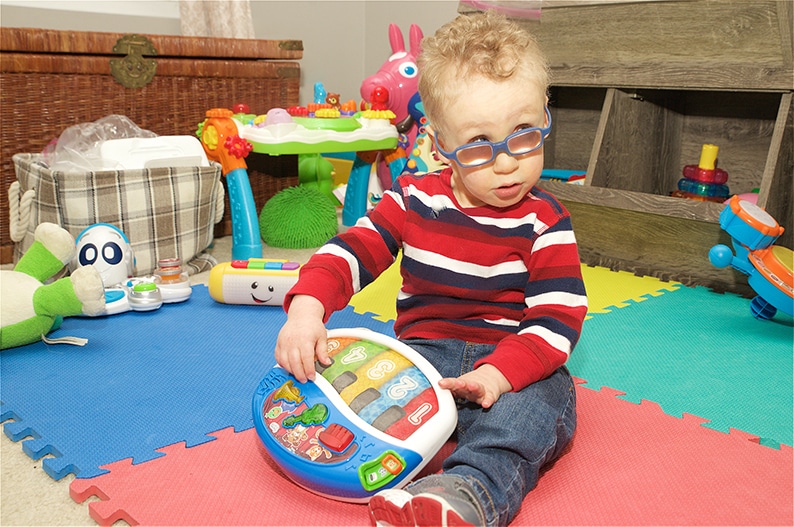 Help is here for parents of special-needs child
A CICOA care manager came to the house and sat with Amanda at the dining room table. Together they went through the stack of bills. The Brehms learned about available resources, and CICOA connected them to the help they needed to care for Jonah.
Things have settled down a lot since those early days. That's not to say it's easy.
"It's really, really tough," Amanda said. "We try to keep tabs on each other. Jeremy can sense when I need 30 minutes to be away from the chaos."
Having a network of support also helps. While Amanda's parents are out-of-state, Jeremy's parents live nearby and have learned how to care for their grandson. They give the couple time to take care of themselves, go to a movie or out to dinner alone. They fill in when a nurse isn't able to make it. That's been a huge relief, because finding in-home nursing isn't easy, and it's even harder to find a babysitter who is comfortable with Jonah's medical needs.
The curly-headed toddler is mobile now, crawling and pulling himself up. He goes to Wanamaker Early Learning Center for a few hours, four days a week, and the Brehms find comfort seeing the progress he's making.
Managing Jonah's care one day at a time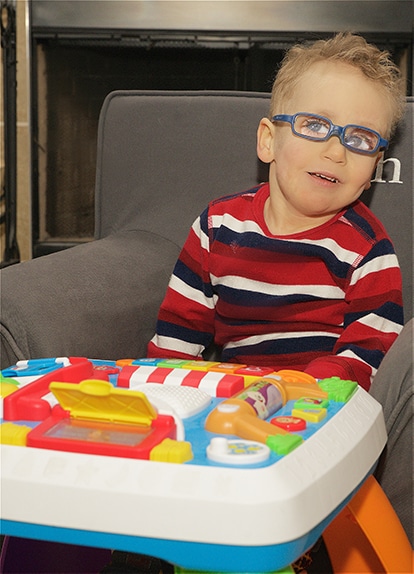 The stress and worry never subsides, though.
"I am in constant fear of how we're going to make it," Amanda said. "I'm trying to take all things one day at a time. I know we'll figure it out."
When you have a child with special needs, you learn by fire, Jeremy added. He gives credit to Amanda, who makes sure Jonah has the care he needs, taking him to appointments and therapy sessions. Being an advocate for your child is key, the couple agreed.
"The hardest part for me is knowing that he's treated differently than other kids, that he'll always be treated differently, and knowing he's not going to have normal friendships with other children," Jeremy said.
Parenting a child with special needs has changed their lives
Having a special-needs child changes things—not just your routine, but also your purpose. Amanda gave up her career in communications and is enrolled in an accelerated nursing program at University of Indianapolis. She's interning this semester at the maternity unit at Community Hospital South where Jonah was born. It's where her eyes were opened to what nurses really do.
"I was just blown away," Amanda said. "They not only were taking care of Jonah, but they also supported us. I still talk to some of his nurses to this day. I decided if I have to work, I wanted a purpose."
The Brehms don't want Lowe Syndrome to define Jonah. Instead, they focus on the positives, like his infectious laugh, his snuggles and his playful mischief. In those ways, he's just like any other 3-year-old. Those are the best of days.
---
Help families like the Brehms get the wraparound support they need, so they can enjoy their days with laughter instead of worry.