Do you or a loved one need help getting and preparing meals?
For any number of reasons from financial to physical limitations, many seniors and people with disabilities in Indianapolis and throughout Central Indiana face challenges to eating regular, healthy meals every day.
Meals & More, a service of CICOA Aging & In-Home Solutions, offers appetizing, nutritionally balanced meals that are vital to sustaining health and quality of life.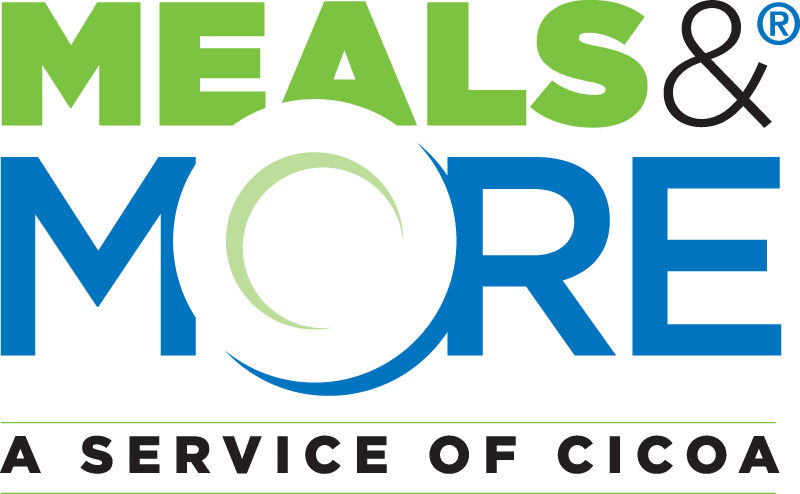 Monthly Menu
What's for lunch? Check out our monthly menu for neighborhood sites and home-delivered meals.
Home-Delivered Meals
CICOA delivers freshly prepared, frozen meals to seniors living in Marion County and the surrounding Central Indiana counties, Monday through Friday. To receive these meals, individuals should be homebound and unable to prepare meals, have limited mobility or support systems, and be 60 years or older or the spouse of someone age 60 or older.
Neighborhood Meals
Have lunch with friends at one of our neighborhood locations in Boone, Hamilton, Hancock, Hendricks, Johnson, Marion, Morgan and Shelby counties. Lunch is served Monday through Friday at meal sites in senior centers, churches and apartment communities. Reservations are required. Please call (317) 803-6042 for information on how to enroll.
Meal Vouchers
CICOA offers a voucher program for discounted senior meals at participating hospital cafeterias and restaurants. Have more options and flexibility in your dining choices. For a suggested contribution of $3 each, individuals age 60 and over can receive up to eight vouchers per month for breakfast, lunch or dinner.
Commodity Supplemental Food Program
Eligible individuals 60 and over can receive free boxes of nutritional, nonperishable food, such as canned fruits and vegetables, cold cereal, and bottled juice. These are distributed at sites in Marion and Morgan counties.
Nutrition Education
CICOA's registered dietitian provides nutrition education to individuals and families to promote healthy food choices, improve health behaviors and manage nutrition-related chronic diseases.
Farmers Market Vouchers
The Indiana Senior Farmers Market Nutrition Program provides $20 worth of vouchers to eligible participants to use at farmers markets from June-October each year.
Hunger is hard. Now, finding food is easy. Indy Hunger Network introduces Community Compass—a free, quick and easy app to find food assistance in Marion County. Download the app or text "hi" to 317-434-3758.
Thank You Meals & More Sponsors
The CICOA Meals & More service is funded with grants from:
United Way C-CERF Rounds One and Three
Meals on Wheels America
Central Indiana Senior Fund
IU Health Community Outreach and Engagement
Healthcare Initiatives, Inc.
Glick Community Relief Fund
Anthem Community Crisis Fund
Call the Aging & Disability Resource Center to Get Started:
(317) 803-6131 or (800) 432-2422
If you are seeking information on behalf of someone else, please have them available during the phone appointment to provide consent for screening or services, or notify the individual that you are making this referral and that CICOA will contact them by phone.
Contact CICOA Meals & More Service
If you are a current Meals & More client and have questions about your service:
Call: (317) 803-6042
Monday – Friday, 8:00 a.m. – 5:00 p.m.