How well do you know your neighbors, friends, coworkers or others in your social circles? What does it take to truly know the people in your life?
At a basic level, I think it starts with interest and effort. As you engage and interact with others, over time you learn about their interests, likes and dislikes, as well as their stories and shared experiences—all key data points that help build relationships.
Diving into data for insights
For the CICOA Foundation, getting to know our volunteers and donors better requires a fair amount of effort. After all, we have almost 20,000 records in our donor database. This raises two questions for me: Do we truly know our wonderful benefactors as we should? And how can we do this more effectively?
In June 2022, Lilly Endowment gave CICOA a generous $5 million sustainability grant. A portion of this grant could be used within the first three years, with the rest set aside in an endowment. From the expendable portion of the grant, we engaged Johnson, Grossnickle and Associates (JGA) this past fall to conduct an audit of our donor database.
JGA and their research partner, Carnegie, provided us with an analysis of donor inclination, capacity and persona profiles for up to 10,000 records, with an innovative new product, Acuity Darts. This offered us unparalleled insight into our donors using an approach that blended demographics, personality factors and financial capacity.
How does this help us know you better?
First, think of "Acuity" as known demographic information, including age, sex, education and income levels, zip codes–things that can be accessed through public records. Second, think of "Darts" as personality and emotive traits that impact philanthropy. In other words, what kinds of causes do you typically support?
Through data, research and two donor workshops held on location at CICOA, we developed four personas of those who most often support our work:
Mission Maven – Donors who are deeply connected with CICOA's mission
Grateful Giver – Donors with deep trust and appreciation for CICOA because of our service to a loved one
Connected Collaborator – Donors with a strong desire to improve quality of life for others in our community
Inspired Innovator – The blue-sky thinkers that challenge the status quo and use innovation to create better outcomes while providing additional revenue streams
Knowing our donors better allows us to tailor our messaging and fundraising approach to these four groups.
We now also have a roadmap that allows us to answer questions, such as:
Who should we be more engaged with as an organization?
Who would like to be more engaged with us?
What should our message be to these different personas?
How often should we reach out?
What have we been missing?
Because of the work accomplished by JGA and Carnegie, I would say we have taken a giant step forward in getting to know our donors. Acuity Darts truly is an incredible innovation that will benefit CICOA's mission and messaging in the immediate future as well as long-term.
Growing the Foundation still requires a tremendous effort, but we now have a roadmap for taking the next step, followed by the next one. I am thankful that we are getting to know you better, so we can talk about the things that matter most to you. The entire point is to be relationship driven, one donor at a time. It's nice getting to know you!
---
WHY DO YOU GIVE TO CICOA?
Give to a fund that matters to you
---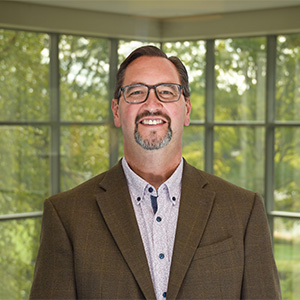 Stephen Gerber
Stephen Gerber has lived a lot of lives, professionally speaking. He brings experience in pastoral ministry, nonprofit management and fundraising team leadership to his role as CICOA's chief development officer. Stephen is responsible for the agency's overall fundraising strategy, leading annual campaigns, major gifts, planned giving, grants and special events. Most recently Stephen served as executive director of development at Grace College & Seminary in Winona Lake, Ind. He holds the Certified Fund Raising Executive (CFRE) designation and the executive certificate in religious fundraising.