When she started as a care manager at CICOA, Mr. B was the first client on Lara's caseload. He had yet to start any services, and Lara was fresh out of grad school, eager but naïve about the difficulties awaiting both of them. Mr. B and his wife, Jennifer, were desperate to begin respite home health aide services. He had recently suffered a fall and could no longer walk. He also had severe dementia, which was accompanied by intense behavioral disturbances.
Jennifer chose a home health company, which was added to her husband's plan of care with a start date. Things seemed to be going well until Lara began receiving calls about the client's violent behavior toward his wife and home health aides. The client was too aggressive and dangerous to bathe and was in need of a haircut. Though his dementia was severe, you could tell he was neither happy nor comfortable.
Despite Lara's intervention, the provider chose to discharge Mr. B. During this transition period of searching for a new home health agency, Jennifer began experiencing extreme burnout. She had been a caregiver for both her parents as well as his parents over the years, and she had few supports. Lara struggled to find the help they needed. Then Jennifer learned she was in desperate need of surgery. Post surgery she would not be able to lift or provide any care for her husband for several weeks.
Care managers support the caregiver, too
Lara discussed the idea of a respite stay at a nursing facility for Mr. B. Jennifer wasn't interested initially, but Lara reminded her that if she didn't care for herself, there would be no one to care for her husband in the end.
Jennifer finally agreed to a temporary living arrangement for her husband. The facility where he stayed did a marvelous job in caring for the client and with his wife's concerns. Jennifer got her surgery and took the time she needed to heal. During conversations, it was clear that she realized how much she really needed the respite for herself, both physically and emotionally.
While at the nursing facility, Mr. B's behaviors improved. Medication helped, but the routine and some time apart from his wife also were beneficial. When Lara visited him at the nursing facility, he had a haircut, was smiling, and could say hello and goodbye. Lara started planning for when he returned home.
Jennifer and Lara were able to find a provider that could start in-home care services. Jennifer also disclosed that she wanted to find a part-time job so that she could have some spending money. They worked together to find places that were hiring and to get additional hours for Mr. B's care.
Feeling a sense of calm
Over the past year, Mr. B and Jennifer have been doing well, and they have been able to take walks together with his giant Rottweiler, Sasha. He continues to have fewer disruptive behaviors and is happier. They have an aide that they love, and Jennifer has a part-time job at Wendy's.
Jennifer acknowledges that she was struggling, but is so thankful for her care manager that took the time to hear her cry for help and find a solution. The demands of caregiving are high, but with a little help, Jennifer has more joy in life and the peace of mind that her husband is well cared for at home, where he really wants to be.
CICOA can tell hundreds of stories of clients that have gone through a similar process, but this serves as a reminder that with a little help, clients can move out of the chaos and into the calm.
Your generous support allows CICOA to bring a calming touch to caregivers and clients like Jennifer and Mr. B. Consider a gift in honor of a dementia caregiver you know.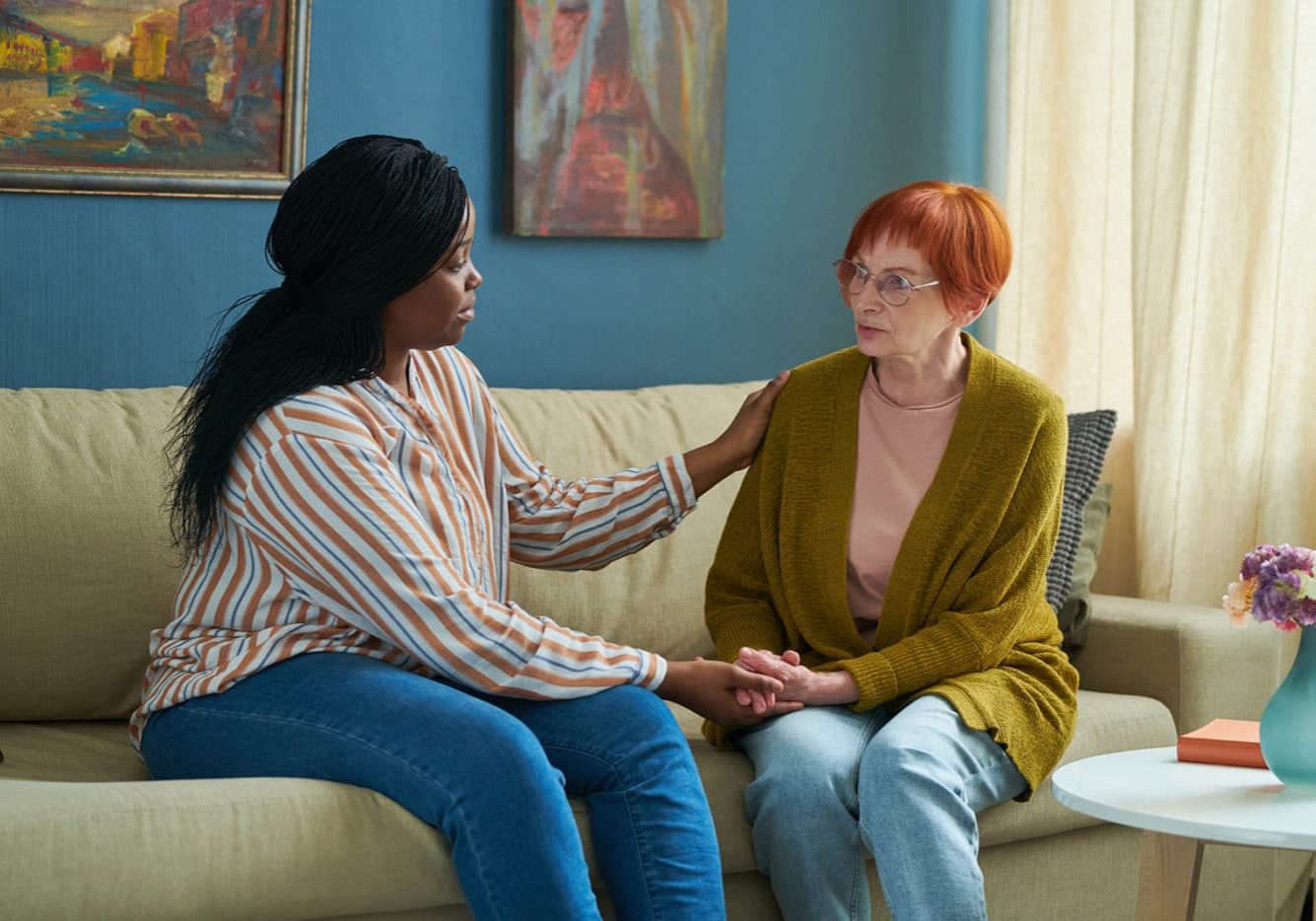 Bridging Gaps in Mental Health Support for Older Adults
Mental health is a growing crisis, not just in Indiana, but across the country. One in 20 adults experience serious mental illness each year. During the COVID-19 pandemic, many of us grappled with loneliness and social isolation. In the wake...