Get fresh fruits and vegetables at your local farmers market!
Seniors in Central Indiana can apply for benefits to use at state-approved farmers markets in the CICOA service area, valid each year from summer to October.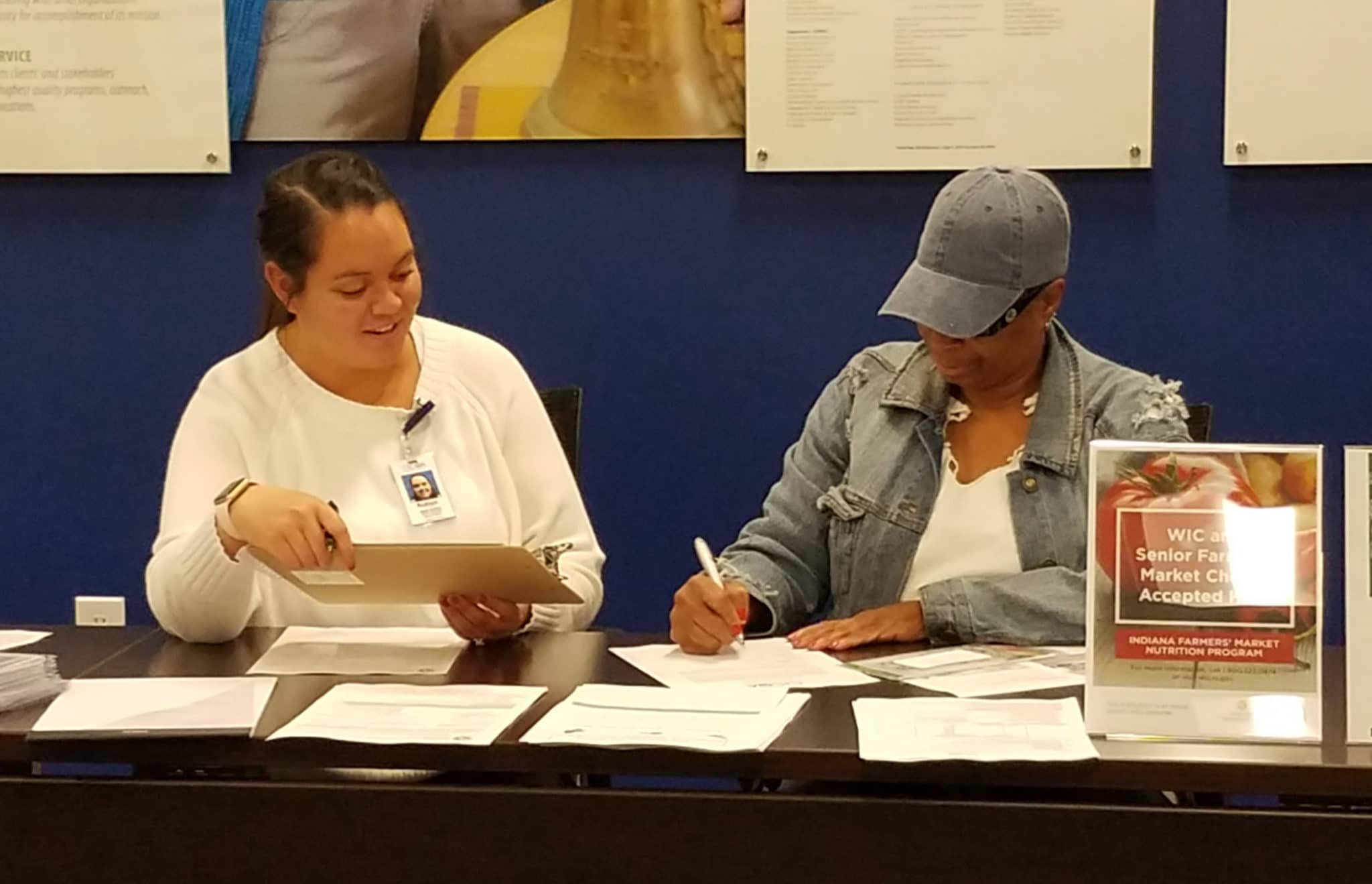 Important Notice about 2023 Farmers Market Program
CICOA has been informed by Indiana State Department of Health that the new electronic benefits program and mobile app for the Senior Farmers Market Nutrition Program remains delayed. Since we will not be able to process applications and distribute funds in a timely fashion before markets begin to close in September and October, we have decided to step away from this program for the 2023 season.
We apologize for this hardship and want you to know that we remain dedicated to helping seniors access nutritious food options. We have been looking into other opportunities to provide fresh fruits and vegetables year-round, and we hope to be able to bring these opportunities to local neighborhoods soon.
Senior Farmers Market Nutrition Program
The Indiana Senior Farmers Market Nutrition Program (SFMNP) began in 2002 under the Indiana WIC program. Indiana WIC partners with the Family and Social Services Administration Division on Aging and the local area agencies on aging (AAAs), such as CICOA, to serve eligible seniors. The AAAs determine eligibility, provide nutrition education, and distribute checks to participating, income-eligible seniors. Interested seniors should contact their local AAA for information. Not every county participates in the SFMNP.
CICOA provides farmers market checks redeemable at state-approved SFMNP markets in eight counties: Boone, Hamilton, Hancock, Hendricks, Johnson, Marion, Morgan and Shelby.
Program Information
SFMNP is an annual program administered from summer to October.
Farmers Market benefits are available to participants at no cost.
Participants receive $50 in benefits to spend within 30 days.
Participants must be 60 years old or over, or age 55 and over, disabled and living in senior housing with congregate nutrition services.
We do not take "walk-ins" for farmers market vouchers. You are welcome to obtain applications from us at any time, but we will only distribute booklets during scheduled distribution days.
Contact CICOA Meals & More Service
For more information about the Senior Farmers Market Nutrition Program:
Call: (317) 803-6042
Monday – Friday, 8:00 a.m. – 5:00 p.m.