Did you know that August is National Make-a-Will Month? While the topic of creating a will might not be the most exciting, it is undoubtedly one of the most crucial steps in ensuring that your wishes are honored, and your loved ones are cared for when the time of your passing comes. Having the will to make a will is not just a legal necessity; it is a powerful act that enables you to shape the narrative of your story even beyond your lifetime.
Setting Yourself Apart
Being proactive about your will sets you apart from many Americans. How so? Here are some facts about estate and will planning that may surprise you:
The Empowerment of Planning
Estate planning is not solely reserved for the wealthy or elderly. Regardless of age or financial status, having a comprehensive estate plan is crucial.
Creating a will is not just about distributing your assets; it's about making thoughtful and deliberate decisions that protect your family and dependents and reflect your values, aspirations, and desires. Guardianship arrangements for minor children, division of assets among family members, and arrangements for pets are all essential aspects of your will.
By having the will to make a will, you secure the well-being of those who matter most to you, providing a roadmap for them during an emotionally challenging time in a way that truly reflects your care and consideration.
Remembering Nonprofits in Your Will
Estate planning isn't just about securing your family's future; it's also an opportunity to empower your legacy by supporting causes that are close to your heart. You might be surprised at how many individuals give to faith communities, educational institutions and other favorite charities their entire lives, and yet do not consider these same institutions in their will.
By including charitable organizations in your estate plans, you'll be leaving a portion of your assets to causes you believe in. Nonprofits greatly benefit from these bequests, as they receive essential resources to continue their work and create positive change in the community.
This means, to be blunt, that you could make a significant impact by remembering CICOA in your will. Our Meals & More service provides much-needed nutrition for at-risk seniors. Way2Go ensures that seniors have transportation to doctors' appointments, the pharmacy, grocery store, and other essential needs. Safe at Home improves home accessibility and reduces the likelihood of falls. CareAware provides much-needed support to family caregivers. Wrinkle Innovation launches new solutions to better meet the needs of the vulnerable populations we serve. In short, your legacy could provide a host of key services to seniors, people of any age with a disability, and family caregivers.
Getting Started with Estate Planning
Some years ago, I had the honor and privilege to assist a family in their estate planning process. When it was completed, the couple turned to me and said that if they had known how relatively easy it would be, they would have started the process much sooner. I ask you today – why wait?
While contemplating your mortality might be uncomfortable, estate planning offers peace of mind and security for you and your loved ones. Let National Make a Will Month inspire you to take the next step.
First, have conversations with your family and perhaps with others whom you deeply respect. Talk about why you want to do something. You can have a conversation about how to carry out your wishes once you understand the why.
Second, I have over 20 years in the philanthropic world and would be happy to sit down with you, your family members or anyone of your choosing and help guide this discussion. I am here to assist you in any way that I can when it comes to your estate planning needs.
Remember, estate planning is not just about what you leave behind; it's about the enduring impact you make on the world. Please reach out, and I would be glad to assist you! Happy will-making!
---
A GIFT FOR GENERATIONS
Include CICOA in your legacy
---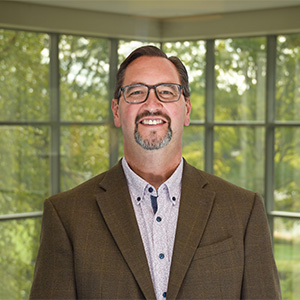 Stephen Gerber
Stephen Gerber has lived a lot of lives, professionally speaking. He brings experience in pastoral ministry, nonprofit management and fundraising team leadership to his role as CICOA's chief development officer. Stephen is responsible for the agency's overall fundraising strategy, leading annual campaigns, major gifts, planned giving, grants and special events. Most recently Stephen served as executive director of development at Grace College & Seminary in Winona Lake, Ind. He holds the Certified Fund Raising Executive (CFRE) designation and the executive certificate in religious fundraising.