On Friday, Dec. 13, ten students from Zionsville Community High School's Customized Learning Program boarded a Way2Go shuttle. Karren (Sondrini) Brooks, director of CICOA's Way2Go transportation service and their driver for the day, turned around to give some instructions: Find a seat, buckle up, pass out these lyrics for some Christmas carols. Who's gonna start the song? There was a moment of silence followed by a quick game of "not it" accompanying her question.
Soon, the familiar songs of Rudolph and Jingle Bells filled the bus.
The students were among 54 volunteers who delivered plastic totes of food to CICOA clients as part of our annual Very Merry Days celebration. Although considered non-traditional students, the juniors and seniors from Zionsville excelled in bringing traditional holiday cheer through warm smiles and caroling.
"I like the fact that people who may not always get to see other people or experience love and compassion…it was just nice to see how they responded. I enjoyed seeing their big, beautiful smiles!"

Kaelin Wirkkala, junior
Kaelin is one of 30 Zionsville high school students enrolled in the Customized Learning Experiences program, which began in August 2019 as a way to increase graduation rates by providing more freedom and flexibility in the learning environment. Core academic courses are taken online, and students customize elective courses based on their needs and interests.
Kaelin has a connection to caregiving because of visiting a great grandmother with dementia who was in a nursing home before she passed, and a grandfather who has difficulty moving on his own as a result of multiple back surgeries.
"So I've been exposed to that, and I also do job shadowing at a neurologist's office, where patients with disabilities come in who are older and need help. Neurology is something I really want to go for," Kaelin said.
High school group finds volunteer opportunities through CICOA
"We're trying to make sure when they graduate, students have an actual plan that they can follow," said Nicole Chisley, director of Customized Learning Experiences. "Some of them are going to go to four-year colleges. Some are going to trade school, and some are going straight into the workforce. So everybody's kinda different."
"The students volunteering at CICOA are doing so as part of a community service course," she continued.
"When I knew that we needed to do some type of community service, CICOA was the first place I thought of, because I knew that they help the elderly and people with disabilities and are such a blessing to that population. My mother actually was blessed through CICOA, as well. She's deceased now, but many years ago, her air conditioning went out in the middle of the summer, and CICOA supplied her with a new window unit."

Nicole Chisley, director of Customized Learning Experiences
"Our students have to do 48 hours of community service every semester to get one high school credit, so we've been doing office volunteer work once a month, and now this is our grand finale," Nicole said.
Delivering holiday cheer to seniors in Indianapolis
CICOA's Very Merry Days celebration impacts not only our clients and their families, but also the numerous volunteers that give their time and resources each year between Thanksgiving and the New Year. As part of the holiday observance, 400 totes of food were delivered to people who otherwise might not have a holiday meal. Inside each tote were a ham, produce and non-perishable canned goods, plus a poinsettia and pie.
The Zionsville high school students rode together on a CICOA Way2Go shuttle to deliver baskets to clients who receive Way2Go rides to the Franciscan Senior Health & Wellness PACE program on Southport Rd. in Indianapolis. The PACE (Program of All-Inclusive Care for the Elderly) model is an adult day service in which an interdisciplinary team of healthcare professionals provides coordinated care in one setting, including help with bathing, dressing and grooming, meals, therapies, and even seeing a doctor.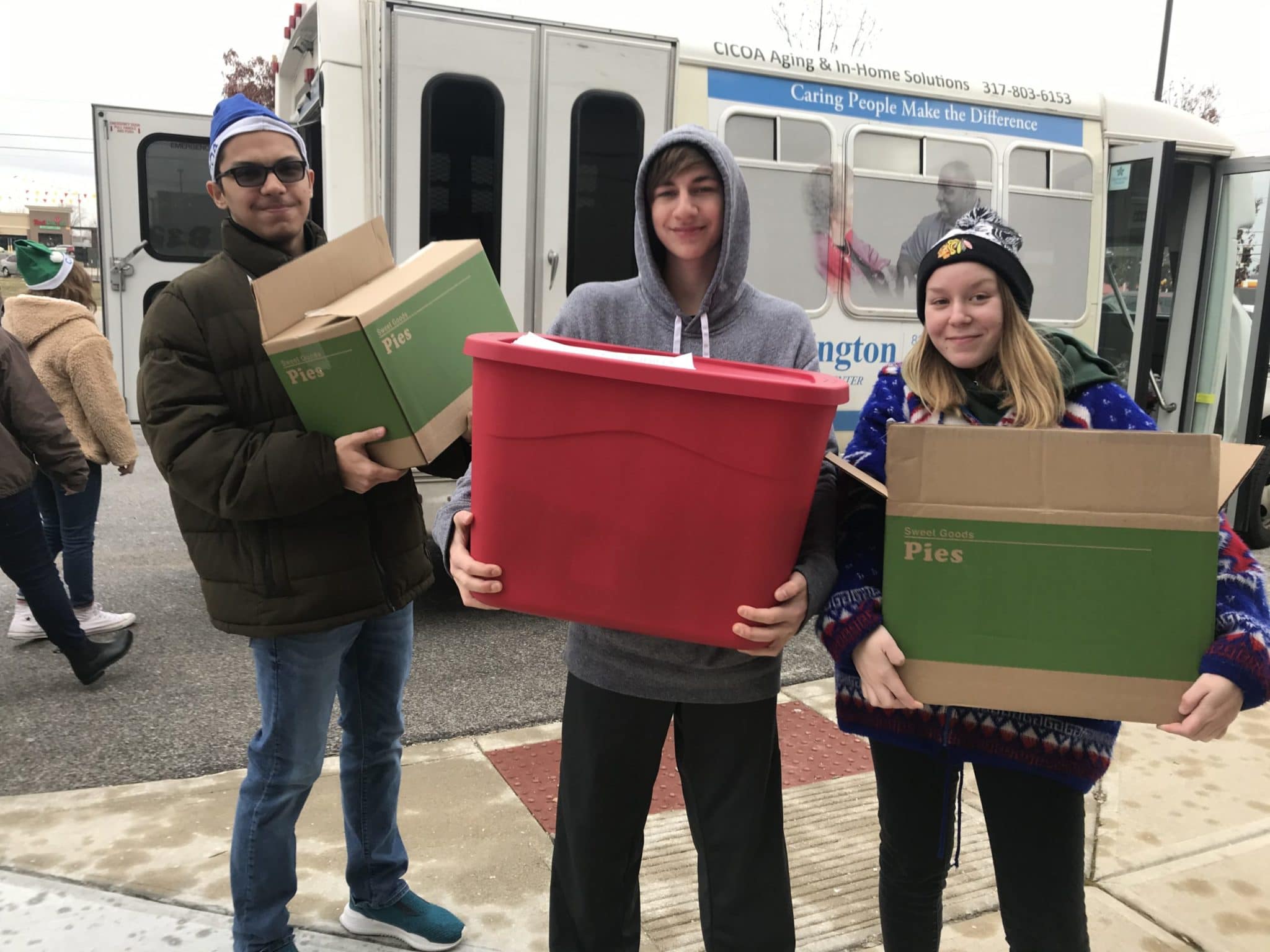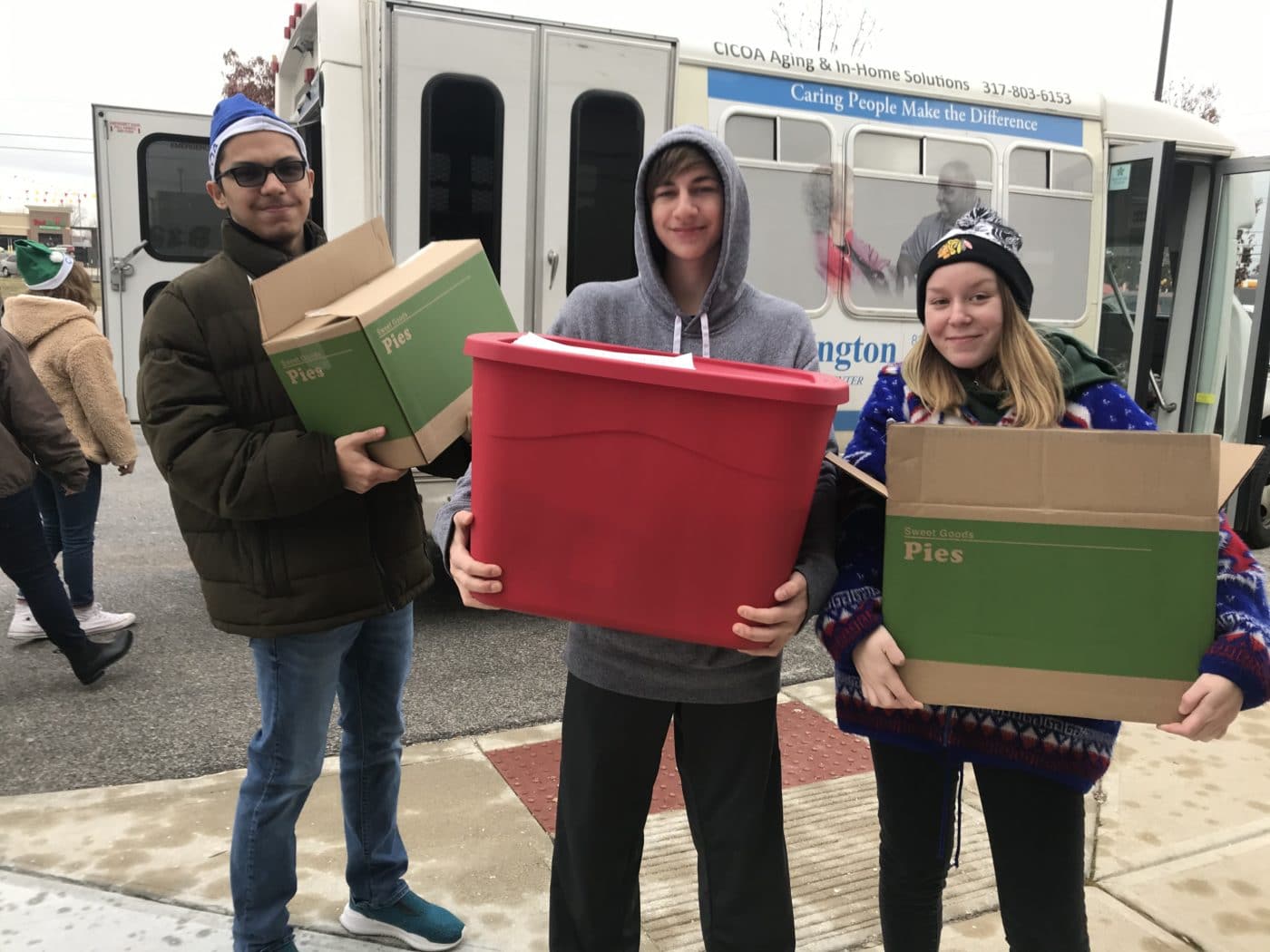 Although the students have volunteered monthly at CICOA doing office work, this is the first time they have interacted with clients.
Jenna Kellough, a junior, currently works with students with moderate to severe disabilities through the Peer Special Needs program at school. She plans to work with people with disabilities after she graduates, so she was particularly passionate about volunteering for CICOA.
"I really like that it's uniquely shaped to what I want to do," she said. "I've always had a love for taking care of people. My grandmother and I used to make meals for retired veterans, and I have a family member with disabilities that I've taken care of for years. My passion is working with special needs children or being a caregiver of some sort to people who are uniquely abled, which is a word I prefer to use."
"I love seeing everybody be so happy and spending time with people who might not have family around. I love having them feel that personal, emotional connection of caring," Jenna said.
---
Do you know a group interested in volunteer opportunities to help seniors and people with disabilities in Central Indiana? Email volunteer@cicoa.org to learn more!