CICOA Aging & In-Home Solutions presented six awards June 28 during its annual meeting to recognize individuals and organizations that have made a significant impact on our mission during the past 12 months.
Exceptional Service Award: That's Good HR was recognized for having a keen understanding of CICOA's I-CARE culture and working diligently to obtain qualified candidates dedicated to providing high quality services.
Collaboration Award: Harold "H.B." Bell hosts the JumboLove Show on Radionext.tv. His Saturday show, "All Community, All the Time," increases awareness about CICOA services and helps break down barriers to accessing and accepting assistance.
The Dementia Friends Indiana Advocate Award: Dr. Glenda Westmoreland, a geriatric physician with Eskenazi Health and Indiana University School of Medicine, and the Indianapolis Geriatric Workforce Enhancement Program (GWEP) were honored for their leadership in incorporating Dementia Friends messaging into the first-year curriculum at IU School of Medicine. This first-of-its kind achievement means that future medical professionals will see and understand dementia in a new way that positively complements their clinical care and leads to enhanced health outcomes for patients and caregivers. This program also serves as a model for other medical schools and is generating interest nationwide.
Impact Award: The Indianapolis Neighborhood Housing Partnership® (INHP) was honored for its work providing affordable and sustainable housing for individuals and families in Marion County. Over the past year, INHP grants totaling $20,000 have provided home safety and accessibility modifications for CICOA clients that enhance mobility, promote independence and prevent falls.
Spirit Award: During "Random Act of Kindness Month" at National Bank of Indianapolis, five volunteers from the NBI Bash Road branch in Castleton made more than 1,600 notecards and hand-drawn pictures with uplifting messages for CICOA Meals & More clients. Since the March effort, the team has continued this service to help brighten the day of individuals who may be struggling with isolation and loneliness.
Innovation Award: Duett Inc. is an Indianapolis-based technology firm that builds solutions for the home healthcare industry. Since its launch more than a year ago, the platform has helped CICOA and other organizations gain efficiencies in matching people who need in-home care with home health agencies and caregivers who offer the services. What previously may have taken months to complete can now be accomplished the same day or the next, helping individuals retain independence in their own home.
"With heartfelt gratitude, we thank each of these individuals and organizations for their creativity, innovation and advocacy in serving vulnerable older adults, people with disabilities and caregivers," said CICOA President and CEO Tauhric Brown. "We are proud to recognize these outstanding awardees and know that we are better for their partnership."
Photos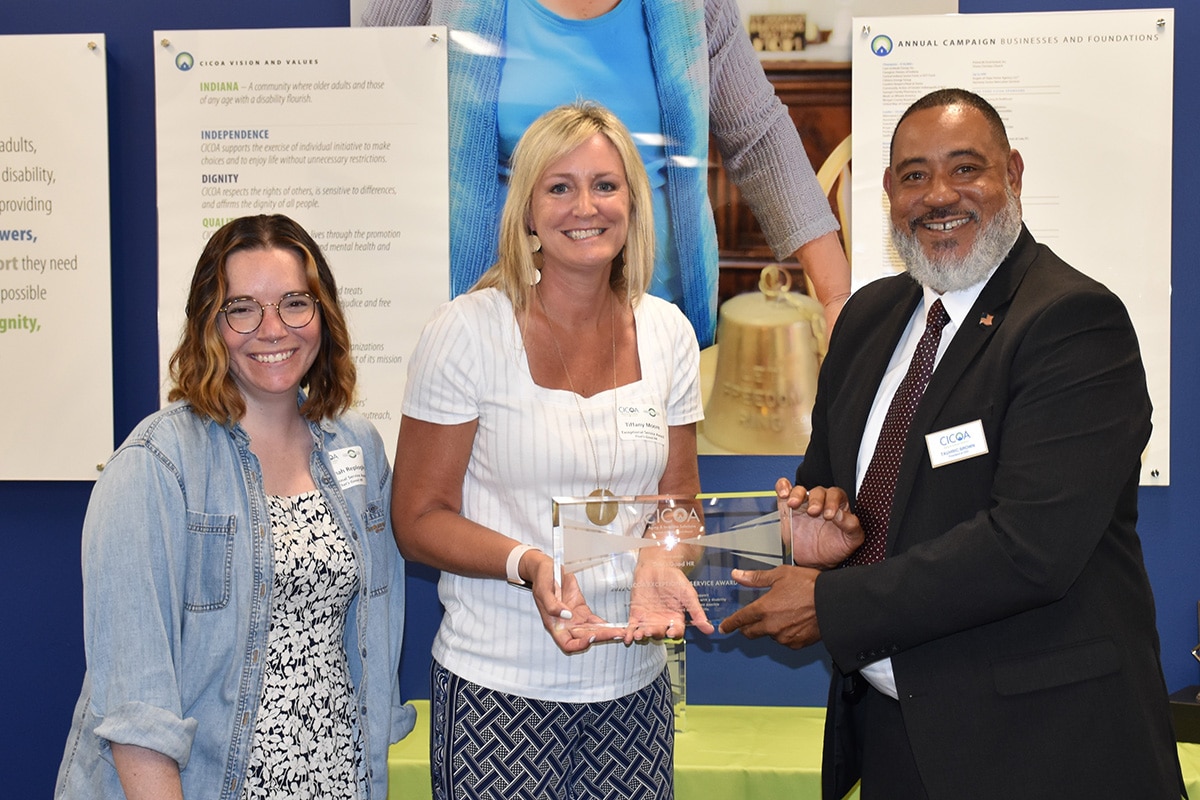 ---
Following the awards presentation, CICOA elected new board members and officers. The CICOA Operating Board elected Case Calvert as a new member for the July 2022-June 2026 term.
CICOA Operating Board elected the following officers:
Kathy Frank, Chair
Mike Brower, First Vice Chair
Deanna Conerly, Second Vice Chair
Marie Myers, Treasurer
Case Calvert, Secretary
CICOA Foundation Board of Trustees elected the following members for the July 2022-June 2025 term:
Wess Jackson (re-elected)
Sarah Crist (re-elected)
Mark Flesner (elected)
CICOA Foundation Board of Trustees re-elected the following officers for the July 2022-June 2023 term:
Laura Haynes, Chair
Wess Jackson, Secretary/Treasurer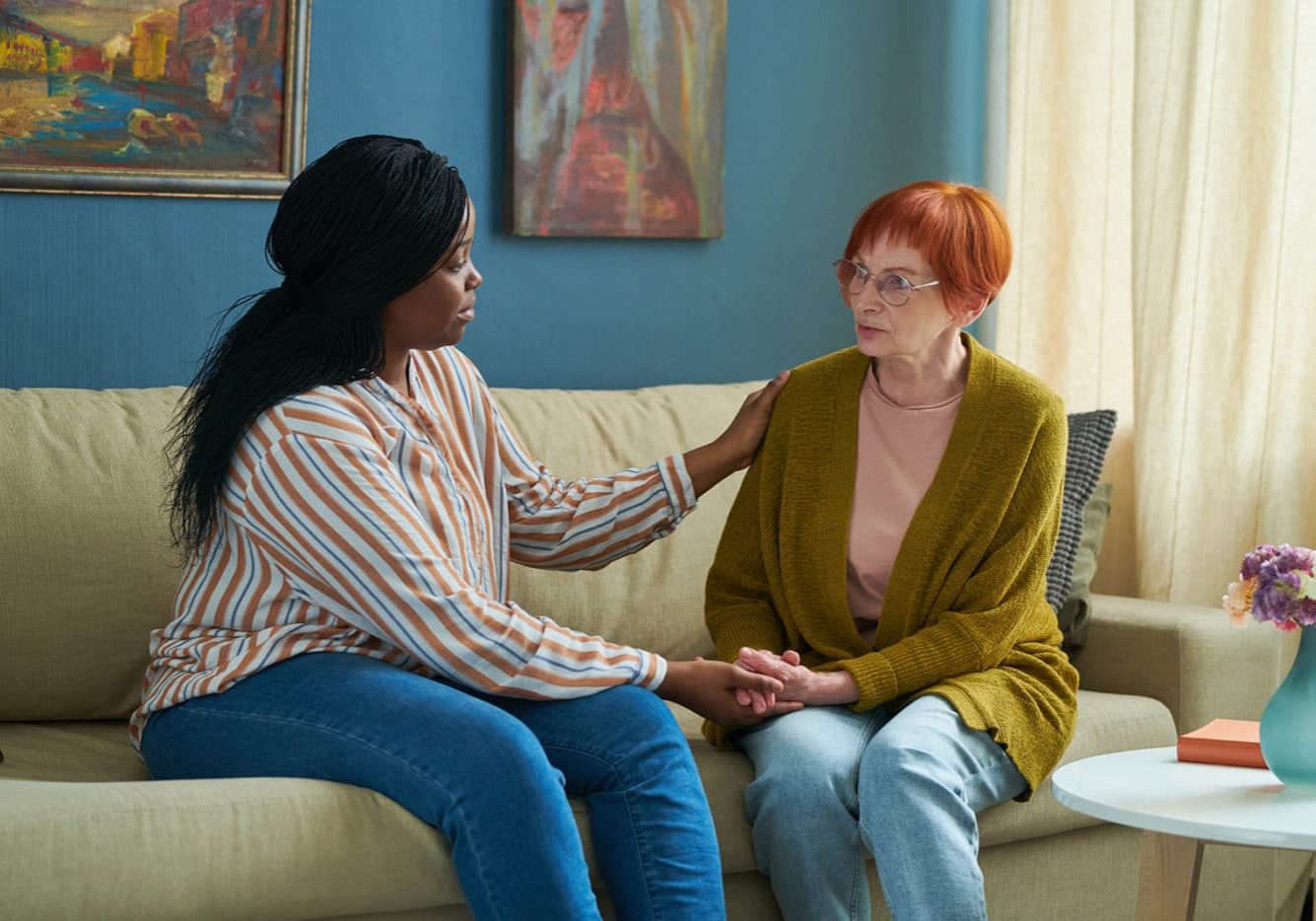 Bridging Gaps in Mental Health Support for Older Adults
Mental health is a growing crisis, not just in Indiana, but across the country. One in 20 adults experience serious mental illness each year. During the COVID-19 pandemic, many of us grappled with loneliness and social isolation. In the wake...