Facing Eviction, Senior Finds New Home After Life-changing Call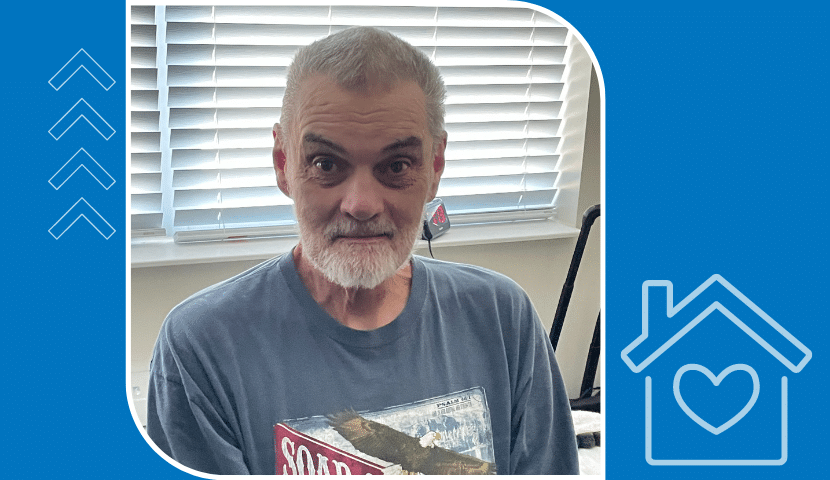 Last December, Ron was in deep trouble. A year earlier, he'd lost his wife. The radiation and chemotherapy that helped him beat oral cancer left him weak and bedridden. And now, with his savings running out, he was facing eviction from the three-bedroom apartment he and his wife had called home for 13 years.
"I didn't know what to do," Ron said. "The big fear was being homeless. It would have been a death sentence, given my health."
Ron, a former computer programmer, and his wife, a retired medical researcher, had been living without too many worries on their combined Social Security benefits. After his wife died, the loss of her benefits cut the household income by more than half. Keeping up with living expenses was a struggle, so Ron decided to use the remaining rent money to cover the cost of moving somewhere less expensive.
"Then my movers bailed on me," he said.
Homelessness looked inevitable.
Connecting to community resources and quickly getting started with services
Family Promise of Greater Indianapolis, an organization that helps homeless and low-income families regain their independence, heard about Ron's situation and put him in touch with CICOA. Options Counselor Nick Penington took the call and began the process of expediting Ron's case.
Thanks to a new cross-training initiative, staff within CICOA's recently merged Aging & Disability Resource Center/Options Counseling department can complete the entirety of work on a case in a single phone call or appointment, from intake to requesting services from the state.
Within two days Ron had been approved for expedited eligibility for full Medicaid benefits, a service plan and relocation to an assisted living facility. On the day he was going to be evicted, Ron moved into his new home.
Thriving in his new home
"Three meals a day, studio apartment. The situation is ideal. My memory is starting to slip, but the staff here bring me my medications when I'm supposed to take them. There are activities—Bingo, cornhole tournaments, church services, shopping days. I get to socialize with people in the dining areas. I get to mingle with everybody," Ron said.
Ron, who turns 70 this month, said he's slowly but surely getting stronger physically, which he attributes to proper nutrition.
"Before I'd eat whatever was around, usually from tins. Tuna, sardines, whatever," he said.
Weeks ago, Ron thought his situation was beyond hope, even when Family Promise and CICOA offered reassurance.
"They told me not to worry, but I was skeptical. I was amazed how they took me through all the steps. It was so efficient. They took care of the bureaucracy, the paperwork. It all came together," Ron continued. "I put all my eggs in their basket. And I want to thank everyone for all they've done for me."
---
CICOA guides seniors and caregivers through the questions and challenges of aging so that you or your loved one can live with dignity and independence. Donate now to help us address the critical needs of our aging loved ones and neighbors.