The call came early on a cold day in January when temperatures were barely in double digits. There had been a fire at Crownpointe Assisted Living on Indianapolis' east side, and 28 CICOA clients suddenly and unexpectedly needed a new place to live.
My heart hurt for my clients, as Crownpointe's director shared the news. When she told me all 44 residents and staff got out safely, I breathed a sigh of relief. Then my mind was flooded with questions.
Where were my clients now? How would we find housing for them? How would we get them needed medication? What about those with COPD? Were they suffering from the smoke? And, what about mental health? So many questions, and everything needed to be addressed quickly and en masse.
One of my clients was the first to spot the fire in the dining hall just after midnight. She called 911 and awkwardly navigated down the hall in her wheelchair banging on doors, telling everyone to get out. I thought how scared everyone must have been. While they each live independently in apartments, most can't run, some need a cane or walker, and others—like the woman alerting her neighbors—use a wheelchair. I worried that these sweet elderly people were cold outside in their pajamas in the dead of winter. The director assured me that firefighters helped them onto IndyGo buses for shelter. Eventually, they were all transported away from the flames, smoke and bright lights of two dozen emergency vehicles at the scene.
I am happy to report that everyone is OK and have settled into new homes.
Independence has a support system
This experience made me realize it truly does "take a village" to care for our village of older adults in Central Indiana. I'm deeply thankful for the supportive CICOA colleagues who helped me take care of my clients in varying ways. For example, CICOA Foundation has a special Client Assistance Fund set aside for emergencies, and we were able to use those donated dollars from generous donors to get clients what they needed so they could settle into new homes.
I'm equally thankful for those in our community who facilitated many transitions for these residents through their flexibility and "roll-up-your-sleeves-and-get-to-work" attitudes. We relied on our deep partnerships with community organizations, the Indiana Department of Family and Social Services, and a well-established network of senior living organizations in the coming weeks. They opened their arms to those impacted by the fire to meet all the needs that arose. It typically takes up to 60 days to get approvals to move someone into a new facility, but with such a team effort, this awesome village helped us relocate everyone on the same day.
This is the power of community relationships! While CICOA works to empower seniors and people with disabilities to live as independently as possible, we definitely can't do it alone. We depend on a wide support system to make that happen. Thank you for being part of that support system.
I hate that our seniors had to go through this experience. Yet, I am so very grateful for our village that has kept them safe, secure and living their best lives.
---
It takes a village to care for our elders. An emergency like this can be devastating, but you can directly support seniors getting back on their feet. Give now to the Client Assistance Fund.
---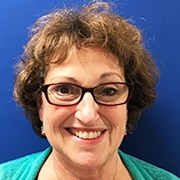 Mary Anne Emch
Mary Anne Emch has been a Flourish Care Manager with CICOA for three years. It was a steep learning curve when she joined CICOA, but she loves her job. Previously she had worked in schools with emotionally disabled elementary school-aged kids and had been a mental health counselor prior to her school roles. All along, Mary Anne and her husband Scott raised two wonderful kids who are now respectable and kind adults. Of all Mary Anne's accomplishments, she is most proud of her role as a mother.