Spring and summer are on their way, bringing warm temperatures with them. As temperatures climb over the next several months, hydration becomes more important than ever. Our bodies need water to function properly, and a lack of hydration can cause our bodies not to work efficiently or even suffer serious consequences.
While drinking water is certainly the best way to stay hydrated, some people may find it difficult to consume the recommended amount. How else can we hydrate our bodies this spring and summer? You might be surprised to learn that water-rich foods are an option! All fruits and vegetables have some amount of water in them, but there are a few that stand above the rest.
Let's look at 10 hydrating fruits and vegetables to incorporate into your diet.
Watermelon
As the name suggests, watermelon contains a lot of water – over 90 percent of its weight comes from water! This summer fruit is most enjoyed by the slice. You can also add watermelon to smoothies or grill it for a new taste experience.
Peaches
Peaches are in season in the summer, so it's the perfect time to enjoy fresh, juicy peaches! You buy these fresh from a farmer's market or produce section of your grocery store. Another option to buy canned peaches instead. Canned peaches are shelf-stable, meaning they stay fresh for a long time in your pantry. Be aware that some canned peaches are packed in syrup. Instead, look for canned peaches packed in 100 percent juice to avoid the added sugar.
Tomatoes
Summer is the time for garden-fresh fruits and vegetables. Tomatoes, a summer favorite, contain a high amount of water. There are many varieties of tomatoes that can be used in different dishes. Cherry tomatoes are small and great to eat alone or put on kebabs. Grape tomatoes are even smaller than cherry tomatoes and can be used in salads. Heirloom tomatoes have a wonderful taste that can be enjoyed on sandwiches or made into sauces. There are so many more varieties to explore! Check out a local farmer's market for the best tasting tomatoes.
Strawberries
Like tomatoes, strawberries are versatile in how they can be used and can count toward your water intake. Enjoy strawberries as a snack on their own, or add them to fruit salads, green salads and smoothies.
Grapefruit
All the fruits on this list are in-season during the summer, but what about the winter? Grapefruit is in season from late fall to late spring, so it is a great hydrating option for winter. Grapefruit can be enjoyed on its own by peeling off the outer layer or it can be added to fruit salads or desserts.
An important note on grapefruit: Grapefruit can interact with certain medications and cause the body to absorb more of the medication into the bloodstream than usual. Talk to your doctor about eating grapefruit and potential interactions if you are on any medications . If you can't eat grapefruit, consider other citrus fruits like lemons, limes and oranges.
Celery
Did you know that celery has more water than watermelon? With about 95 percent of its weight being water, celery is a hydrating and refreshing vegetable that incorporates well into several different dishes. Celery can be enjoyed on its own or with a dip, such as peanut butter and hummus for a protein boost. You can also add celery to salads and soups. Some even like to drink celery juice on its own! Find your own way to enjoy celery and incorporate it into your diet for a hydration boost.
Cucumber
Cucumbers have a refreshing taste and contain lots of water. Consider adding cucumbers to sandwiches, salads, or enjoy on their own. Add sliced cucumbers to water for a light, refreshing, taste.
Zucchini
If the intense flavor of cucumber doesn't entice you, consider cooking zucchini for a water boost. Zucchini has a mild flavor that be incorporated into a lot of dishes. The flavor of raw zucchini may not be palatable to some. A unique use of zucchini is spiralizing it into long, noodle shapes that can be used in place of pasta. Zucchini also can be chopped and sauteed, baked, and sliced thinly to wrap other foods. Zucchini bread and cookies are also great ways to add a vegetable to your baked goods!
Cauliflower
You might be surprised to see cauliflower on this list, but cauliflower is about 92 percent water! Cauliflower's subtle taste and firm texture has allowed it to become a versatile vegetable in recent years. Cauliflower can be used to make vegetable-rich alternatives to favorite foods like rice, mashed potatoes and pizza crust. It can also be enjoyed steamed or roasted as a side dish.
Lettuce
There are many varieties of lettuce, including iceberg, romaine and red leaf. Leafy greens contain high amounts of water, with iceberg lettuce containing 96 percent water. Other leafy greens like spinach and arugula also boast over 90 percent water. Consider combining different leafy greens together for a hydrating salad, especially focusing on dark green, leafy vegetables for the extra nutritional benefit.
What can counteract hydration?
It's important to note that there are factors that may counteract hydration and require someone to need more water than what is typically recommended.
Caffeine is a diuretic that causes the kidneys to release more water into urine than usual. This loss of water can dehydrate the body and create the need for more water. Caffeine can be found in coffee, coffee-flavored treats like espresso ice cream, tea, soda and chocolate. If you consume caffeine daily, consider adding extra water into your diet to replenish.
Medications can also affect how much water your body needs. Talk with your doctor about your medications and how they may be affecting your hydration levels.
While plain water is the best hydration source for the body, there are many different foods that can count towards your water intake. Incorporate some of these fruits and vegetables into your diet this spring and summer for a hydrating treat that keeps your body running efficiently!
---
Do you need a boost with your nutrition as you age? Contact Meals & More to learn about nutritious home-delivered meals, neighborhood meal sites and more healthy programs. (317) 803-6042
---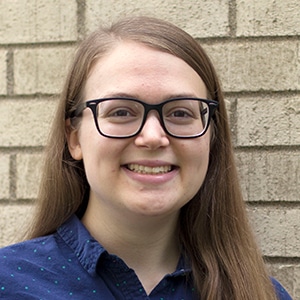 Kristen Phillips
Kristen Phillips, an AmeriCorps VISTA at CICOA, brings her background in hunger relief and working with older adults with dementia to the Meals & More department. She holds a bachelor's degree in music therapy from Appalachian State University. While in school, Kristen worked with people of all ages to refine her skills as a music therapist. During her studies, she found her passion working with older adults with dementia and continued working with this population during a six-month internship to finish her certification. In 2018, she moved to Indianapolis to begin her first AmeriCorps VISTA term and gained experience in hunger relief efforts. Since then, Kristen has made Central Indiana her home.