July 26, 2014, began as an ordinary, beautiful summer day. But in an ordinary instant, our lives changed dramatically.
It was about 4:00 p.m. that Saturday when I received a call from my son's girlfriend that she couldn't rouse Matt. She had tried all day and couldn't get a response. She asked me what to do.
"Call an ambulance!" I said.
The weeks after that call are a blur. I rushed to the hospital and waited hours while the medical staff tried to save my son. Matt, then 27, had experienced seizures before, but on this day he aspirated on his own vomit, suffering an anoxic brain injury that resulted in a stroke on both sides of his brain. We were given little hope he would survive.
Fast forward to September. After more than seven weeks in the hospital, Matt returned home to a new life. The front room of our home was remodeled with the help of our church to accommodate his hospital bed, Hoyer lift and wheelchair. A ramp was installed, and a bathroom remodeled.
I was blessed to be working as a care manager at CICOA, so I knew how to navigate securing the Indiana Medicaid Aged and Disabled Waiver and Social Security Disability for Matt, as well as obtain durable medical equipment, nutrition supplements and medical supplies.
CICOA was by our side from the beginning and still provides ongoing case management.
I wasn't comfortable having a stranger in our home to take care of Matt, so my husband, Quentin, took early retirement and became Matt's primary caregiver through the Structured Family Caregiver program. I take the evening shift.
Once an industrial roofer on high-rise buildings, my 6'4" son now requires total care. I would feel selfish if I thought he was sad, but Matt lives in the moment and seems to be carefree. Though he is nonverbal, he knows us, and we have our own communication. I enjoy his smiles daily.
Being Matt's sole caregivers is challenging for us as he can't be left alone, so my husband and I don't get to do much together anymore. I worry as we get older what will happen to him, but I am thankful we can be here now and feel fortunate to work from home so I can stop by his room and see him throughout the day. I also am blessed to share my knowledge and experience with others in their own "ordinary instants" and to help guide them through their caregiving journeys.
---
Life can change in an instant. Be there for the people who find themselves suddenly in need of CICOA's services. Your gift changes lives.
---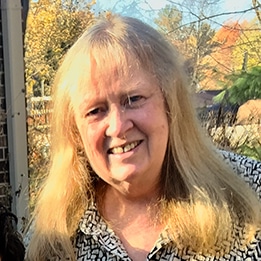 Judy Smith
Judy Smith is a Flourish care manager at CICOA, where she has worked for more than 15 years providing support and guidance to improve the lives of others. She earned a bachelor's degree in Elementary Education from Indiana University. After graduating, Judy's focus turned to social work and she has worked for Indiana's Family and Social Services Administration, Head Start and local counties completing home studies for the court. Judy has been married for 44 years and has two adult children. As time allows, she enjoys being with family, friends and floral gardening.