Your eyes act as a window to the outside world. With August being National Eye Exam Month, let's take a look at eye health as it relates to aging and nutrition.
As your eyes age, common eye problems like dry eyes, watery eyes, floaters in vision, or loss of ability to see close objects may impact daily life. For some people, eye diseases like cataracts, glaucoma, or macular degeneration may develop, making your vision less clear.
Diet plays an important role in eye health. Getting essential vitamins and nutrients to help each part of the eye function can help prevent common eye problems and diseases.
Carrots are the major food that is talked about in regard to healthy eyes, but what other foods contain nutrients that support eye health? Here are five unexpected foods that you may not know support eye health!
Bell Peppers
When you think of vitamin C, typically oranges come to mind. Oranges are a great source, but did you know bell peppers also contain high amounts of vitamin C?
Vitamin C is an essential vitamin for our eyes because the fluid that fills the outermost part of the eye contains a high concentration of vitamin C. Make sure you're getting some in your diet to support eye health.
Bell peppers contain high amounts of vitamin C. One medium-sized red bell pepper contains 169% of your daily recommended intake! Enjoy bell peppers as a part of a main dish, or cut them up on their own as a snack. Bell peppers can be paired with hummus for even more flavor!
Sweet Potatoes
Sweet potatoes and eye health may seem like an unlikely pair, but many orange fruits and vegetables contain a key antioxidant that is great for the eyes.
Orange foods are full of beta-carotene, an antioxidant that is converted into vitamin A in the body. This antioxidant is what gives the food its orange color! Vitamin A helps to maintain a clear outer portion of the eye.
Sweet potatoes with skin provide upwards of seven times the recommended daily intake of vitamin A at 769%! Enjoy a sweet potato with your next meal knowing that your eyes are thanking you for this essential nutrient.
Spinach
Many of us have seen Popeye the Sailorman eat a can of spinach when he needed strength and speed. The nutritional value of spinach isn't just for Popeye – it's for all of us!
Spinach is full of vital nutrients for our bodies, including lutein and zeaxanthin. These nutrients help protect your eyes from harmful UV rays from the sun.
While there are currently no recommended daily intake guidelines for lutein and zeaxanthin, one cup of spinach contains 3.7 mg of both combined. Add in other sources such broccoli, Swiss chard and kale for even more added lutein and zeaxanthin.
Fish
When we hear that a food contains fat, we tend to think that fat means it is not good for our bodies. However, there are healthy fats that are essential for our bodies to work at its fullest potential.
Omega-3 fatty acids are found in high amounts in the retina of our eyes. Our bodies cannot produce omega-3 fatty acids on its own, so diet is crucial in supplying the body with these healthy fats. Many types of oily fish are great sources, such as salmon, tuna and other cold-water fish.
Each fish type has various amounts of omega-3. A 3.5-ounce portion of salmon, for example, has 2.3 grams, while the same portion of canned white meat tuna has 0.58 grams of omega-3.
Almonds
Almonds are versatile nuts that can be used for snacking, or in salad or main dish recipes. Every time you add them to a dish, you are also helping your eyes by supplying them with vitamin E.
Fatty acids, like omega-3s, need some extra protection in the body. Vitamin E helps to protect the fatty acids in our eyes so that they can work at their full potential.
Almonds are a great source of vitamin E, with one ounce of nuts providing 37% of the recommended daily intake. Munch on almonds for an eye-healthy snack!
Try adding more bell peppers, sweet potatoes, spinach, fish and almonds into your diet for optimal eye health nutrients as you age!
---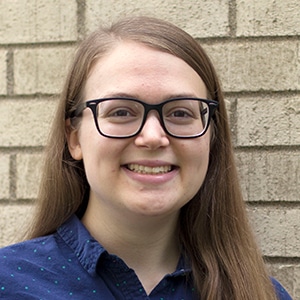 Kristen Phillips
Kristen Phillips, an AmeriCorps VISTA at CICOA, brings her background in hunger relief and working with older adults with dementia to the Meals & More department. She holds a bachelor's degree in music therapy from Appalachian State University. While in school, Kristen worked with people of all ages to refine her skills as a music therapist. During her studies, she found her passion working with older adults with dementia and continued working with this population during a six-month internship to finish her certification. In 2018, she moved to Indianapolis to begin her first AmeriCorps VISTA term and gained experience in hunger relief efforts. Since then, Kristen has made Central Indiana her home.