When good people and good ideas come together to create innovative solutions for communities, the resulting social impact can make a difference in countless lives. One of the CICOA Foundation's strategic initiatives is to Lead the Way with Innovation, and you make innovation possible.
Some years ago, I read about a school that sent out a fundraising letter asking alumni to save it from closure. They needed to raise money and raise it fast. Unfortunately, among other lapses, they had not kept their database current. The article's title was "The $1.9 million dollar lesson," as the school reached only one-third of its alumni base.
What does this have to do with innovation at CICOA? Everything!
Wrinkle Innovation, formerly CICOA's Venture Studio, was founded in 2019 by the CICOA Foundation. That year, two employees, Chad Bales and Jonathan Haag, brainstormed how to connect vulnerable clients with needed home healthcare services in a more timely, efficient manner. They knew the solution was technology.
As Bales and Haag worked on a prototype for a web app, they realized this was an opportunity not just for CICOA, but also for other organizations that connect clients or patients with home healthcare. A new company and award-winning software solution were built: Duett. In 2021, Duett received an Aging Achievement Award from USAging. This also became the catalyst for nurturing a culture of innovation at CICOA.
But here's where the $1.9 million dollar lesson comes in: We can build out a heroic effort and have great products that win awards, but if we leave our donors behind, then we have neglected one of the most important ingredients to achieving near-term and long-term success: You!
Studio | Consulting | Capital
Wrinkle Innovation consists of a venture studio, capital fund and consulting on joint community ventures.
Venture Studio – Since the launch of the Innovation Studio in 2019, we've created three new companies from staff-generated ideas—with more on the way!
Innovation Project Consulting – As a leader among home and community-based service companies, we can come alongside other community-based organizations as a partner, advisor or consultant in support of other organizations' innovation efforts.
Capital –

This is about investing.

The CICOA Foundation seeks to partner with impact investors to address complex social issues affecting older adults, people with disabilities and their care partners. We need seed capital to fund ongoing projects and accelerate home and community-based solutions that improve quality of life for vulnerable people and build capacity and efficiency for the organizations that serve them.
Duett is an excellent case study of how this socially conscious enterprise has assisted numerous older adults and multiple human service organizations. The return on investment is multiplied in the individuals who are served, the agencies that are improved, and the CICOA Foundation in terms of investments that will pay dividends many times over when these ventures are sold.
Ways to invest in Wrinkle Innovation at CICOA
Want to invest in something that has an exponential return in social capital and will pay dividends for years to come? Here are ways you can give:
Cash is always an excellent choice! Give online to the Innovation Fund.
Do you have publicly traded stock that might be donated? Gifts of appreciated stock are often easier for donors, as their cash flow is not impacted as greatly by providing such gifts.
If you are among our older donors, take a look at your IRA RMD (Required Minimum Distribution) and see if you can give all or part of this distribution to help fund innovation. These can be RMDs up to $100,000, as year one distributions often are higher than subsequent years. A direct rollover from your broker can provide you with potential tax savings.
Do not forget about your DAF (Donor Advised Fund) as a source of giving toward this effort. You may keep a surplus amount in your DAF, and part of this surplus could be given.
What about gifts of assets? Often, such gifts yield far greater return than a cash gift alone. You could see potential tax savings and experience great satisfaction in knowing that Wrinkle Innovation will multiply your gift over and over.
Will you join us in leading the way in innovation?
We do not want to leave our donors behind. As in the story I shared, we cannot fail to inform, and we must not fail to ask. Asking is always honorable when there is a cause that is worthwhile.
As I think about this worthy cause, it does suggest thoughts about the future of CICOA and the CICOA Foundation. Duett has won national recognition from USAging, and now Postbook, our second business launch, has won the USAging Innovation and Achievement award in the intergenerational category.
As we prepare this summer to launch our third new business enterprise, I am reminded that without impact investors, we will not see success. Will you join us to see these ideas become realities?
If you are looking to invest in good people with good ideas in a high-growth industry for sustainable social impact, please contact us today!
INVEST IN SOCIAL GOOD
Your investment makes it possible
---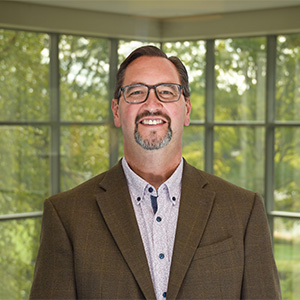 Stephen Gerber
Stephen Gerber has lived a lot of lives, professionally speaking. He brings experience in pastoral ministry, nonprofit management and fundraising team leadership to his role as CICOA's chief development officer. Stephen is responsible for the agency's overall fundraising strategy, leading annual campaigns, major gifts, planned giving, grants and special events. Most recently Stephen served as executive director of development at Grace College & Seminary in Winona Lake, Ind. He holds the Certified Fund Raising Executive (CFRE) designation and the executive certificate in religious fundraising.