In a world where change is the only constant, the words of Bob Dylan's iconic song, "The Times They Are A-Changin'," resonate more than ever. Within the sphere of philanthropy, these words couldn't ring truer. Recent research has revealed a significant transformation in the landscape of charitable contributions: Impact Investing is taking root in America, set to reshape our approach to philanthropy in the years ahead.
Decoding Impact Investing
So, what exactly is Impact Investing? The Global Impact Investing Network (GIIN) offers a clear definition: It's an investment made into companies, organizations, and funds with the dual purpose of generating social and environmental impact alongside a financial return. But is this trend merely a passing fad?
The numbers speak volumes.
"Impact investing is a growing field and a financial force to be reckoned with," according to GIIN.
Their latest survey reveals that respondents collectively manage $114 billion in impact assets. This market has been expanding at an astonishing average rate of 18 percent annually since 2013. Yes, you read that right – 18 percent per year!
Impact Investing: Shaping the Philanthropic Landscape
Here we are in 2023, and Impact Investing is no longer a fringe movement. More than 30 percent of high-net-worth individuals are now actively involved in various forms of Impact Investing.1 But I wonder what does this philanthropic landscape shift mean for nonprofit organizations like CICOA, and what are the immediate and future implications?
I think traditional methods of giving will continue, but they will lessen as individuals increasingly adopt an investment mindset when making charitable gift decisions. This shift creates a promising opportunity for organizations like CICOA that have prepared to embrace social impact enterprises, such as our very own Wrinkle Innovation.
Redefining Philanthropy for Tomorrow
To thrive in this evolving landscape, we must explore innovative approaches to philanthropic giving. The future demands fresh, creative thinking about how gifts can be made. As we navigate this transformation, one thing is clear: The philanthropic future will be unlike anything we've known before.
One pressing concern is whether an investment mentality will sideline charitable thinking. However, research suggests that this isn't the case. In fact, charitable giving often surges when individuals become deeply invested in causes they are passionate about. The immediate takeaway for me is that we must be more proactive to societal giving shifts and engage more people in CICOA's worthy cause.
As highlighted previously, CICOA is committed to pioneering creative, innovative and transformative initiatives for older Hoosiers, caregivers and people of any age with disabilities. We refuse to rest on past laurels or cling to outdated practices; instead, we are dedicated to fostering an Impact Investment mindset. From providing resources, meals, transportation and home modifications to the amazing work of Wrinkle Innovation, we are making a difference in many ways in central Indiana and beyond.
Your Path to Impact: Giving Beyond Cash
With September on the horizon, the year-end giving season approaches. We firmly believe that a gift to CICOA represents an Impact Investment in transforming lives and enhancing the quality of life for the people we serve. But what does this mean for you?
There are many ways you can give to support our cause:
Gift of Stock: Contribute stocks to CICOA, unlocking potential tax benefits and freeing up your cash flow.
IRA Distribution: Consider providing an IRA distribution from your Required Minimum Distribution (RMD) directly to CICOA, potentially reducing your taxable income.
Donor Advised Fund (DAF): If you have extra funds in your Donor Advised Fund, you can make a gift to CICOA, ensuring the continuity of our vital work.
Estate Planning: As previously discussed, now is an opportune moment to get your estate plans in order.
Investing in Wrinkle Innovation: Explore the opportunity to invest in our Wrinkle Innovation work, which includes a business venture studio, capital-raising rounds for business ideas, and consulting services for other non-profit organizations seeking to embrace innovation.
In the spirit of Bob Dylan's song, change is inevitable. The philanthropic landscape is poised for remarkable transformation over the next 5-10 years, making Impact Investing accessible to the majority. The question we pose is simple: Why wait? Your significant contribution today can and will make an impact in countless lives, offering benefits that extend far beyond your immediate realization. Thank you for considering a much-needed gift to support our cause.
Materials from a course at the American College of Financial Services, CAP859 ↩︎
---
BE PART OF THE CHANGING TIMES
Invest in good people with good ideas
---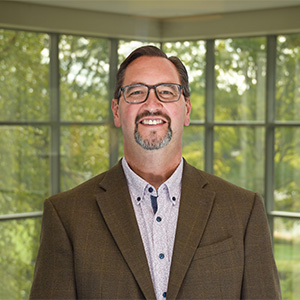 Stephen Gerber
Stephen Gerber has lived a lot of lives, professionally speaking. He brings experience in pastoral ministry, nonprofit management and fundraising team leadership to his role as CICOA's chief development officer. Stephen is responsible for the agency's overall fundraising strategy, leading annual campaigns, major gifts, planned giving, grants and special events. Most recently Stephen served as executive director of development at Grace College & Seminary in Winona Lake, Ind. He holds the Certified Fund Raising Executive (CFRE) designation and the executive certificate in religious fundraising.