CICOA Aging & In-Home Solutions is a recipient of a 2023 Meals on Wheels Loves Pets Regional Cohort Grant, made possible by PetSmart Charities, in the amount of $7,500.00. CICOA also is receiving a Pet Program Ambassador Award and will receive an additional $1,500.00.
These funds will help support CICOA's Pet Connect program, which provides food and other services for our senior clients and their beloved animal companions. The Regional Cohort Grant will help expand Pet Connect to a second county in CICOA's service area, increasing the number of clients that can be served with pet food and supplies.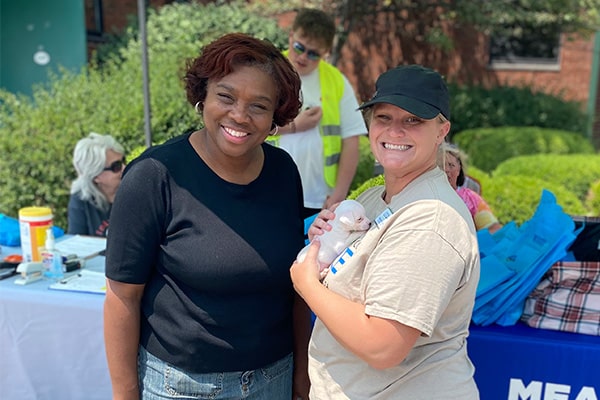 The Pet Program Ambassador Award was given to CICOA Senior Life Enrichment Coordinator Carlisa Richards. As an ambassador, Carlisa will assist in outreach to recruit new Meals on Wheels pet programs in our area, including meeting with representatives from peer organizations.
"We are grateful for this grant funding that helps keep our senior neighbors and their pets healthy and home together," said Chelsea Neulieb, director of CICOA's Meals & More service. "Seniors on fixed incomes can struggle to afford nutritious meals for themselves, which means they also struggle to feed their pets. The benefit of this grant to CICOA's clients is clear: Low-income, homebound seniors no longer must choose between feeding themselves or their pets."
Meals on Wheels America has supported CICOA's Pet Connect program since 2021, with grants totaling $36,500.
---
SENIORS LOVE THEIR PETS
Provide pet food and supplies