I began working from home full-time last spring, two weeks before my kids started e-learning for the rest of the school year. I had found the balance of calling clients, going on home visits, and not missing events with my kids in school. Then COVID-19 shut everything down. My kids still had schoolwork to do that they needed help with, and my clients needed more attention, as they are at higher risk than the general population of contracting the virus.
Being a care manager and a parent with school-aged children is hard when the world is normal. Finding a new work/life balance when everything blends together is even harder.
Learning how to switch gears—from empathizing with a client who found out their loved one tested positive for COVID-19, to a client who is sick and their doctor is advising them to go to the hospital but they want to wait it out, to providing comfort to my six-year-old, who doesn't understand why she can't see her teacher or friends—is difficult.
Hearing stories of people not listening to stay-at-home orders and letting their kids run around makes it difficult not to worry about my significant other, who is a vendor that travels around the area to build things inside Wal-Mart. Talking on the phone to a client who doesn't believe that the pandemic is real and everything needs to open back up because this is "no better than being stuck in jail" only strengthens my fears.
I received a message that my sixth grade son was missing half of his assignments on the same day that I got a call from the hospital about a client who had double pneumonia due to COVID-19. His teacher wanted to schedule a virtual meeting, but their office hours were the same as my working hours, and I needed to complete my client's incident report.
Comforting clients who miss their families is difficult when my daughter begs to go to grammas' loud enough for them to hear her. An upset client yells and cusses me out so loudly that my 11-year-old comes out of his room to see what's going on. I redirect the client and set boundaries on what I will tolerate and shoo my child away. I discuss what happened with my son later, explaining that everyone is stressed and turning the situation into a teaching moment on how not to treat others.
At least one of my kids is always nearby during virtual meetings. They want to be in the same room as me if they hear my voice, if not right next to me. Sometimes the only way for me to get work done is to hide in my bedroom closet. The flexibility of CICOA's leadership has let me work outside of my normal hours, allowing me to finish tasks like incident reports after my kids are asleep.
CICOA's patient and person-centered ways reminds me that I'm not alone, that there is a way through these hardships. So, how do we find the balance? How do we navigate in a world where our support system can only be accessed virtually? How do we explain to kids and clients that this will get better if we listen to what the doctors say? We struggle. We take it day by day, hour by hour if necessary. We know that we are not alone and reach out. We share our struggles and tips with friends, colleagues, and other parents so maybe we can help them. Yes, the kids are literally climbing all over us as we talk, but we realize that we are all in this together, and it will pass. Maybe like a kidney stone, but it will pass.
---
Is work/life balance important to you? Start a rewarding career at CICOA.
---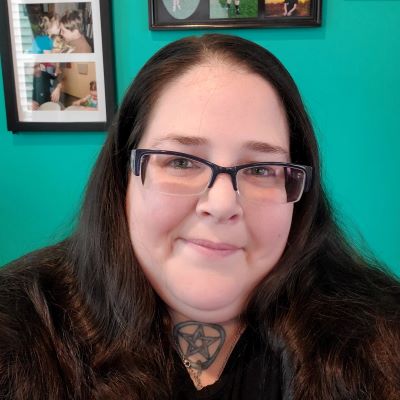 Jennifer Wright
Jennifer Wright has been a care manager since September 2019 and started as a care manager assistant in June 2018, after graduating with a bachelor's degree in psychology. Jennifer has two children and is a Girl Scout Troop Leader for her daughter's troop. Jennifer enjoys traveling, art and spending time with her family. She always tries to live by example and teach her kids to strive to be altruistic.