Volunteers Enrich the Lives of More Than 20,000 People in Central Indiana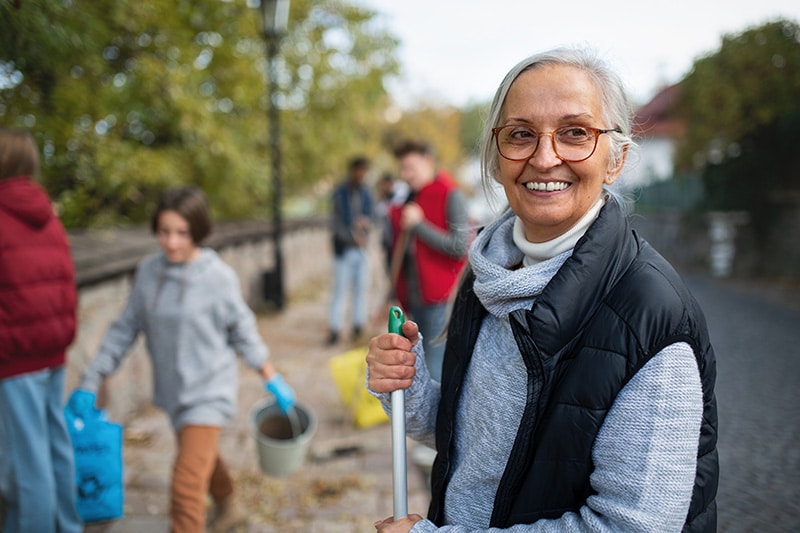 Hoosiers' spirit of volunteerism is impressive, often contagious and always appreciated. This is National Volunteer Month, and we are taking some time to thank the dozens of men and women across central Indiana who give their time and talents to help those in need.
Volunteers make a big difference for homebound seniors
Our volunteers are unsung heroes at CICOA Aging & In-Home Solutions. They take time from their own lives to make someone else's life a little bit better. They are Senior Buddies, who make weekly calls to elderly folks who are homebound and have little or no family around. They are Safe at Home volunteers, who clean up yards, build wheelchair ramps, tighten loose banisters, install grab bars in the shower, or change light bulbs, all to make seniors safer in their homes.
They can donate an hour or two every week or a few hours a year. We appreciate every one of you, because without volunteers, CICOA wouldn't be able to enrich the lives of the more than 20,000 people we serve throughout central Indiana.
The more volunteers we have, the more we're able to do to realize our mission of empowering older adults and people with disabilities and their caregivers to achieve the greatest possible independence, dignity and quality of life.
We appreciate our corporate partners, too, who encourage their employees to take time from their work to volunteer – and still get paid for it. Teams from corporations, such as Elevance Health and American Senior Communities, bring dozens of volunteers for our annual Safe at Home event to help with yardwork and home repair.
Meaningful service experiences benefit all
We want to create meaningful experiences for people who are so generous with their time. It's not just about filling out an application; we talk to volunteers in advance to make sure we match them with opportunities that align with their goals, skills and interests. We also arm them with information to help make their experiences positive ones.
Senior Buddies, for example, are paired with seniors who have similar interests, so their weekly or bi-weekly conversations are meaningful for both people. For some, in-person meetings work best. For others, a phone call is most beneficial.
We'll be launching a program this spring to help our seniors with their pets by collecting food and supplies. We're always looking for ways to enrich the lives of our clients, and those things aren't feasible without an army of volunteers to help.
To all of you who volunteer your time, talent and treasures, we thank you. For those of you who are looking to give back to your community, we have plenty of opportunities for you to get involved. Learn more about CICOA's volunteer opportunities and sign up.
---
DO GOOD IN YOUR COMMUNITY
Find a volunteer opportunity for you
---
Tauhric Brown
As President and CEO, Tauhric Brown uses his strategic vision and experience in the elderly and disability service industry to expand CICOA services and collaborative partnerships to better meet the needs of the vulnerable populations we serve. Before joining CICOA, Brown served as the chief operating officer for Senior Services, Inc. in Kalamazoo, Mich. His career started in the U.S. Army, and then he became a successful owner/operator for a multi-carrier wireless retail company. Inspired by his family and upbringing, he made the switch to the nonprofit world to fulfill his dream of improving the lives of others.