During the COVID-19 pandemic, CICOA's senior transportation service, Way2Go, has remained on the front line, implementing "new norms" to our work routine and establishing new protocols to ensure passenger and driver safety.
The first of these new measures was to make the CDC's social distancing guidelines mandatory. To accomplish this, we reduced the number of clients transported in our minivans to one (with a primary care provider, if needed). Clients are now transported using the rear seat only, and no one may sit in the passenger seat next to the driver.
Our shuttle fleet has a maximum capacity of 14 passengers per shuttle, but due to COVID-19, we currently are transporting a maximum of six clients per trip. Double-coated, clear vinyl partitions have been installed between the driver and passenger seating area for increased driver protection. The use of seat markers ensures proper social distancing of shuttle passengers.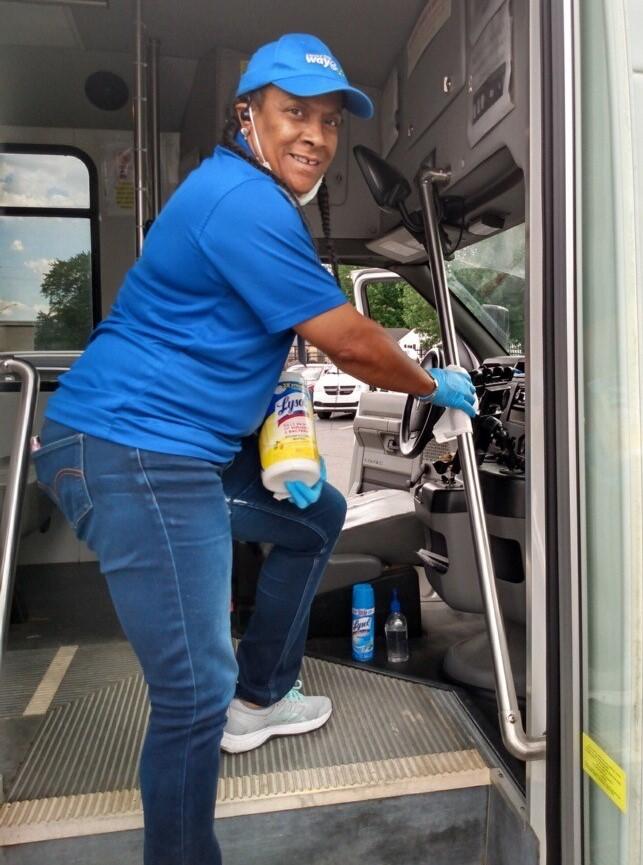 The second mandatory measure is that all Way2Go drivers must wear face masks and gloves. Signage was placed in all vehicles to strongly recommend that passengers wear some sort of mask or face covering while transporting. Strict sanitizing instructions were put into place requiring drivers to clean and disinfect all frequently touched surfaces at the start and end of every shift and after the transporting of each individual client.
The third measure—resulting from decreased demand for medical appointment transportation—is that several Way2Go drivers have been shifted over to help meet the increased demand for home meal delivery. Since March, Way2Go has delivered more than 14,414 meals, and we will continue to assist Meals & More with keeping seniors happy, healthy and fed for as long as the schedule allows.
As always, Way2Go continues to provide safe and reliable transportation for all clients with essential needs trips, which includes medical appointments, dental appointments, therapy treatments, pharmacy and grocery shopping. Long after this pandemic has ended, Way2Go will have a new normal, but we will never change our "norm" of being the friendliest, most reliable transportation service in Marion County.
---
Your gift helps more seniors get to medical appointments and other essential needs trips safely.