Way2Go Transportation Helps 93-Year-Old Indy Woman Stay Independent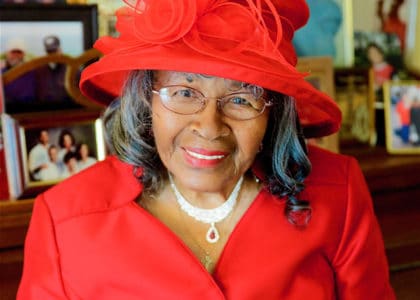 When 93-year-old Cordie needs to go to an appointment or to the grocery, she makes a call to CICOA. The nonprofit's Way2Go transportation service picks her up at her house and takes her to wherever she needs to go. More than that, drivers help her board the van and load her walker.
"I just thank God for CICOA, because they are wonderful," says Cordie. She's dressed in a red suit, matching red hat and red jewelry. Her tidy home also is decorated with red accents.
"Just claiming the blood of Jesus," Cordie says of her fondness for red, as she sits in her favorite spot at the kitchen table.
Staying connected to her Indianapolis community
She proudly proclaims she's the oldest member and oldest charter member of Pathway Missionary Baptist Church, founded in 1966. One of the ministers and his wife pick her up every Sunday morning for service and every Wednesday evening for prayer group.
"They're like my children," she says.
Cordie, twice widowed, is the mother of four, grandmother of four and great-grandmother of nine. For 25 years, she worked on the assembly line at Western Electric in Indianapolis making telephones. Of course, she never imagined the rotary phones she made would become nearly obsolete, or that she'd be able to make calls on a mobile device or Facetime her kids and grandkids on an iPad. She chuckles about the new technology. Then to prove how much she loves it, she clicks away on her iPad to Facetime her son at work.
Maintaining her independence
Whether it's new technology, cooking meals or checking in on those who are sick or in need of prayer from her church, Cordie gets along pretty well on her own. She goes to exercise classes twice a week at Washington Park, and twice a month she goes to the grocery.
CICOA's Way2Go transportation service picks her up every other Thursday. She can shop as long as she needs to, and then she calls from her mobile when she's ready to be picked up.
Way2Go helps Indianapolis seniors get around town
Understanding transportation is a challenge for many older adults and people with disabilities, CICOA began its Way2Go service in 2012. Door-to-door service is available in Marion County from 8 a.m. to 5 p.m. weekdays for medical appointments and for trips to the pharmacy and grocery. The cost is $5 roundtrip for those who sign up in advance and meet eligibility requirements. CICOA also offers scheduled shuttle services from several senior apartment complexes in Indianapolis for a small fee.
CICOA doesn't want people to miss necessary medical appointments or feel isolated due to lack of transportation. Seniors can stay and feel independent by being able to get around on their own without feeling like they are burdening family and friends.
Cordie learned about Way2Go several years ago when a senior companion mentioned the service.
"The lady at CICOA who answers the phone is so sweet, she'll tell me that someone will be there within an hour or 15 minutes or whatever time," Cordie said. "Everyone that picks me up is so nice. It's a blessing. It just means so much to me."