The work CICOA Aging & In-Home Solutions is doing with Alzheimer's and dementia to provide services and education to the community and to better understand the challenges caregivers and patients face has been recognized by the American Geriatrics Society (AGS).
Earlier this month, Dustin Ziegler, CICOA's vice president of clinical engagement and integration, and Kelsey Stinson, director of data and research, presented their work at the annual AGS conference in Orlando. AGS is a national nonprofit made up of more than 6,000 doctors, nurse practitioners, social workers and others committed to improving quality of life and independence for older adults.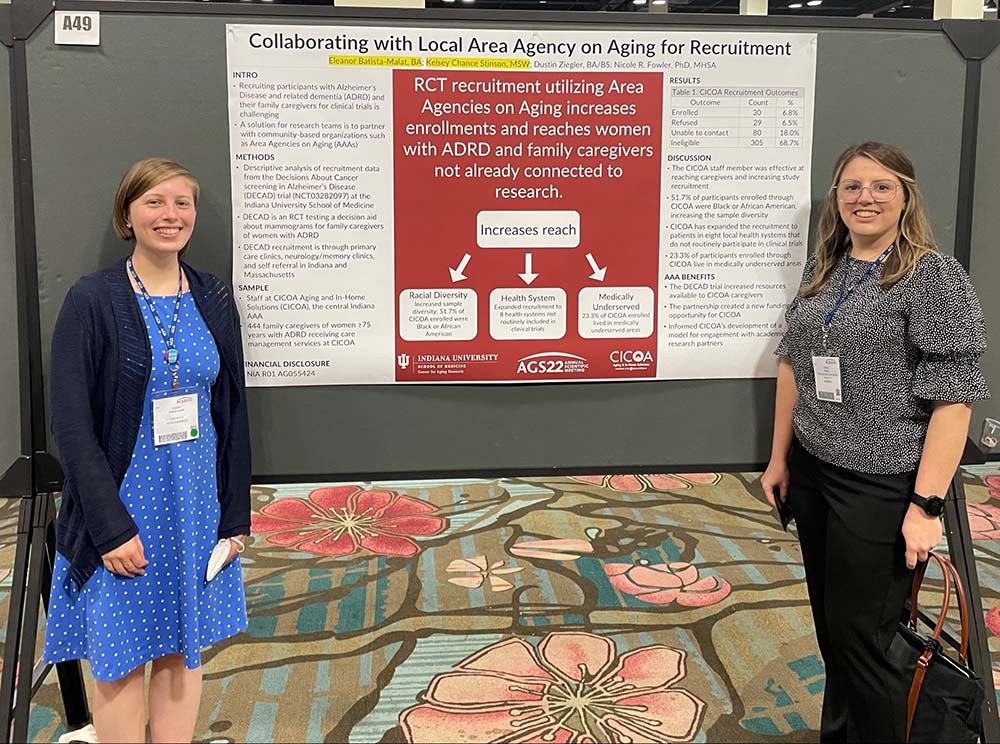 Stinson presented the success and benefits between research teams and local, community-based organizations such as CICOA. Indiana University School of Medicine Center for Aging Research at Regenstrief Institute worked in partnership with CICOA to recruit participants in the Decisions about Cancer Screening in Alzheimer's Disease (DECAD) clinical trials. This trial tests a decision aid about mammograms for family caregivers of women with Alzheimer's Disease and related dementia (ADRD). (View DECAD flyer.)
The partnership proved mutually beneficial. CICOA's support in recruiting study participants increased enrollments and expanded reach to medically underserved and racially and economically diverse families not already connected to research. CICOA expanded its resources for dementia caregivers while contributing to research targeting a vulnerable population.
This partnership become a catalyst for CICOA's engagement with five new research collaborations with academic partners across the nation. In a changing landscape, having a vast network of experts in aging research keeps Area Agencies on Aging like CICOA informed and involved with cutting-edge research to best serve older adults, those of any age with a disability and caregivers. These engagements enhance operations and agency capacity while creating new funding opportunities.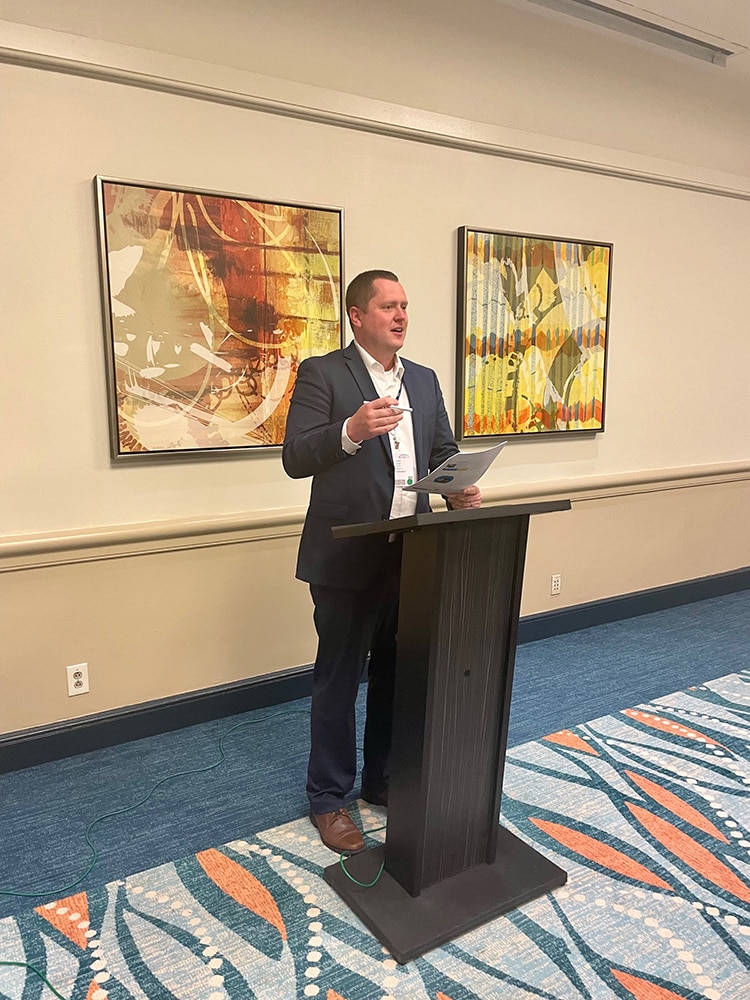 Ziegler's presentation focused on unique partnerships involving CICOA's Dementia Friends initiative. In 2017, CICOA became the state administrator for Dementia Friends Indiana, making the Hoosier state the 10th in the nation with this program. The Dementia Friends Indiana movement seeks to advance education and awareness of dementia, reduce the stigma associated with the condition, and create community environments that are welcoming and conducive for those living with dementia to experience and navigate.
Since launching Dementia Friends, CICOA has engaged 250 volunteer champions to provide information sessions statewide, and more than 10,000 people have completed the training and registered as Dementia Friends.
Dementia Friends training also has been integrated into the curriculum of Indiana University School of Medicine, the largest medical school in the nation.  The "Council of Caregivers and Dementia Friends" session provides medical students a unique view of person-centered care for older adults with dementia and their caregivers. In response to Ziegler's presentation, other medical schools in attendance, as well as AGS themselves, expressed interest in replicating this model for education purposes.
Dementia Friends Indiana also has partnered with the Indiana Department of Homeland Security to provide dementia education for first responders statewide.
Finally, the establishment of Indiana's Dementia Care Advisory Group, of which Ziegler is a member, became the catalyst for the legislature passing Indiana's State Plan on Alzheimer's Disease.
"Dementia Friends Indiana has made a significant difference, but it's extra special to know the work we're doing in education and research is being touted on a national level," said Tauhric Brown, CICOA president and CEO. "We've achieved a lot in just a few years, which tells us, these types of collaborations can have a tremendous impact on the lives of older adults and their caregivers."
---
Interested in partnering with CICOA's Research Institute for a research study? Reach out and see how we can help.