In a little house tucked away in a small community in the southeast side of Marion County, Anna lives with her beloved pets. For years, these cherished animals have been beacons of support and solace in Anna's life as she got older. She has close family living nearby, but in between visits, Anna's pets provide constant company so she never gets lonely.
Anna, living on a fixed income like many seniors and facing numerous challenges due to her medical history, keeps mostly confined within the walls of her cozy home. While loneliness could have easily crept in, her furry companions, Bella, Ricky and Garfield, have been the light she needs, providing emotional support for her wellbeing.
Bella and Ricky, mother and son, have always been an inseparable pair and became the embodiment of joy and love in Anna's life. They were more than just pets; they were family. Yet, as the seasons passed, Bella crossed the rainbow bridge this past summer, leaving Ricky and Anna heartbroken. Anna created a small memorial in her yard for Bella as a reminder of the pure love her four-legged friend gave.
Anna's daily walks in the yard are now accompanied by only Ricky, a loyal friend who doesn't leave her side. He stays at the foot of her chair during the day, providing comfort with every glance and touch, and at night, he curls up beside her bed, making sure she's never alone. Ricky's unwavering presence is a source of reassurance and security for Anna.
On the other hand, Garfield, the feline member of the crew, adds a touch of independence to the household. His enigmatic charm and solitary disposition create a unique dynamic. Yet, every so often, he shows affection to Anna, reminding her of the simple yet profound joys of companionship.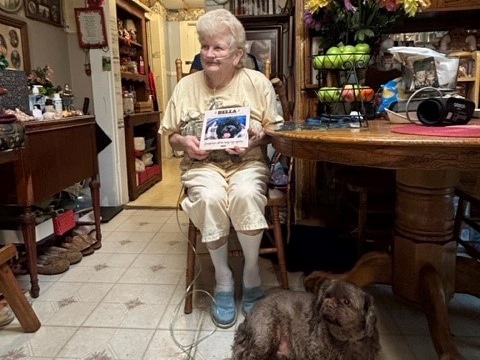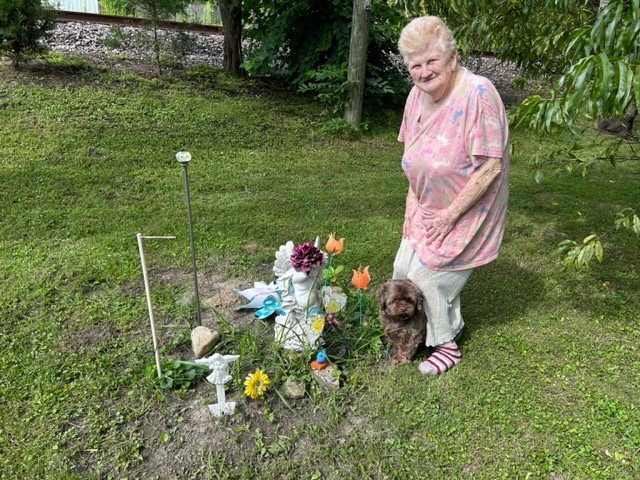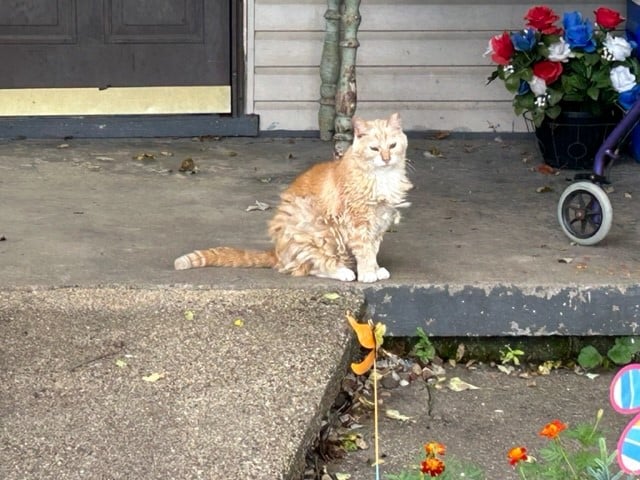 Navigating Independence and Getting Meals
The heart of this heartwarming story, however, is not just the love shared between Anna and her pets but the support they receive from CICOA to live independently.
As Anna navigates the challenges of a fixed income and limited mobility, receiving home-delivered meals from CICOA Meals & More ensures she enjoys a nutritious meal each day. This not only takes care of her physical wellbeing but also eases her mind, knowing that she doesn't have to worry about where her next meal will come from.
Similarly, the assistance she receives from CICOA's Pet Connect program is a lifeline for her beloved companions. Anna was one of the first seniors to benefit from the Pet Connect program, which started two years ago with a grant from Meals on Wheels America and PetSmart Charities. The regular deliveries of pet food and supplies ensure that her furry friends are always well-fed and cared for, without the burden of financial worries.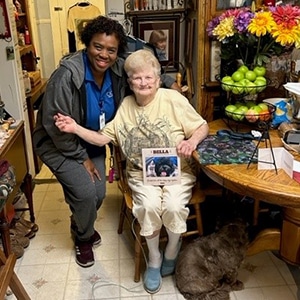 As the home-delivered meals and Pet Connect deliveries arrive at Anna's doorstep, she experiences a surge of emotion. Carlisa, CICOA's senior life enrichment coordinator, a familiar face by now, personally delivers the pet supplies along with a ray of hope and a reminder to Anna that she is not alone in her journey.
"I only have so much to spend every month, and without CICOA, I couldn't afford the dog and cat food and the cat litter they bring me," Anna said. "I can never repay them for all they've done."
The Power of a Simple Act of Generosity
Anna's story is like many other seniors in the Central Indiana region, one of resilience, love and the pursuit of a healthy, independent life – not only for herself but for her cherished pets as well. CICOA's Meals & More services – such as the Pet Connect program and home-delivered meals – are a lifeline for these individuals, providing not only food but also a sense of community and compassion.
As we approach the holiday season, we are reminded of the power of kindness and the joy of giving. Anna's story is a testament to the impact a simple act of generosity can have on a life. It's a call to action, a plea for support during this season of giving. We invite you to make a difference in the lives of seniors like Anna by donating to CICOA. Your contribution can ensure that more beloved companions like Bella, Ricky and Garfield receive the love and care they need.
In the spirit of the holidays, let's come together to brighten the lives of those who rely so much on the love and companionship of their pets, as well as the vital nutrition services that CICOA provides. Bring warmth to the hearts and bellies of those in need. Please consider donating today and be a part of this heartwarming journey. Together, we can ensure that both Anna and her faithful companions enjoy the love and care they deserve, without worrying about their next meal.
---
THE NEED IS URGENT – DONATE BEFORE THE END OF THE YEAR
Give meals to seniors and their pets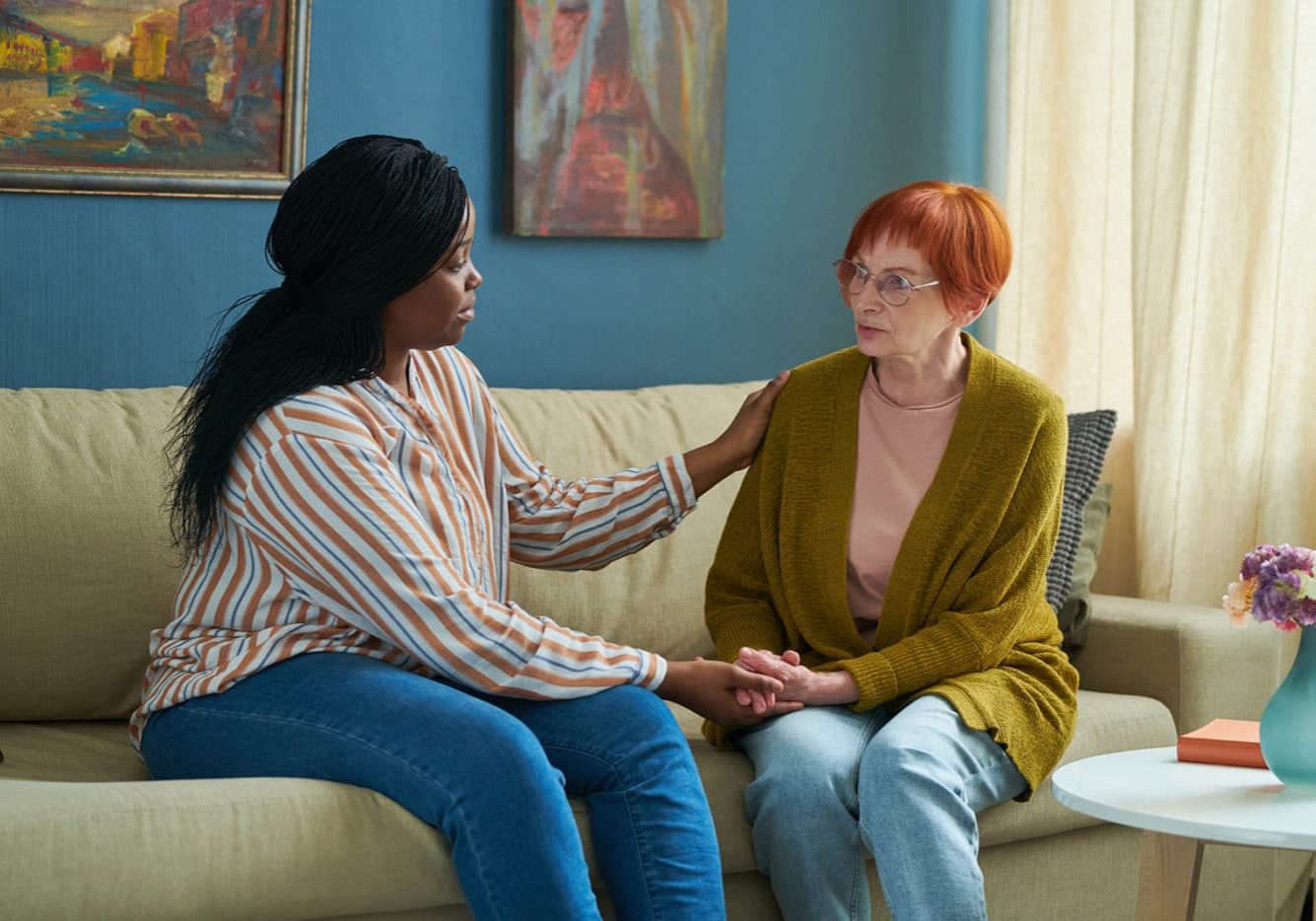 Bridging Gaps in Mental Health Support for Older Adults
Mental health is a growing crisis, not just in Indiana, but across the country. One in 20 adults experience serious mental illness each year. During the COVID-19 pandemic, many of us grappled with loneliness and social isolation. In the wake...