Choosing seasonal fruits and vegetables can help you get more bang for your buck at local grocery stores and farmers markets. Additionally, it supports local farmers, provides local jobs, and reduces greenhouse gas emissions by reducing long-distance transport.
What's in season in Indiana right NOW?
Let's explore produce that is in season between June through November in Central Indiana. This produce can be found at affordable prices at local grocery stores and farmers markets.
Fruits for Late Summer/Early Fall
Apples – Pink Lady, Empire, Fuji, Gala, Golden Delicious, Granny Smith – apples come in many varieties. Although apples are available year-round, from August to November, they are in season locally and incredibly delicious. Apples are a great source of fiber, phytochemicals and vitamin C. Research suggests that apples can prevent cardiovascular disease, type 2 diabetes and certain types of cancer. Therefore, an apple a day, when paired with a balanced diet and exercise, could keep the doctor away! Give apples a try this summer for an average cost of just $0.44 per cup!
Blueberries – Tiny but mighty, blueberries are packed with vitamins and minerals. One cup of blueberries provides the recommended daily intake of vitamin C, vitamin K, manganese and dietary fiber. Blueberries, along with all other berries, boost brain function and have been shown to prevent age-related memory loss. For an average cost of $1.40/lb, incorporate blueberries into mealtime this summer!
Strawberries – Did you know strawberries are a part of the rose family? However, unlike their relatives, strawberries are not just pleasant to look at, but also pleasant to eat! Like all fresh fruits and vegetables, strawberries are naturally low in calories and free from fat, cholesterol and sodium. Studies suggest that consuming strawberries helps with weight maintenance, protects against various types of cancer and supports proper brain function. Give this rose relative a try for just $2.43/lb this summer!
Additional fruits available late summer to early fall:
Vegetables for Late Summer/Early Fall
Cucumbers – We are all wishing to stay as cool as a cucumber this blazing summer. Cucumbers are 96 percent water, so they can help with hydration. Cucumbers also contain many nutrients, such as vitamins C, B1, K, potassium, magnesium and manganese. For just $1.26/lb, try a cucumber or pickle this summer!
Squash – This vegetable is known for squashing all its competitors when it comes to taste, versatility and nutrition. Summer squash is in season in Indiana from early June to late July, and winter varieties will become available later in the season. Summer squash varieties include zucchini, yellow squash, crookneck squash and calabacitas. Squash is an excellent source of vitamins A, C and B, rich in minerals, and high in fiber. Squash also contains beta carotenes that support eye health. For just $1.64/lb, give squash a try.
Tomatoes – Don't be a rotten tomato this summer; eat your fruits and veggies! Tomato's beautiful red color is the result of a carotene known as lycopene. Lycopene may help reduce the risk of prostate, digestive and pancreatic cancers. Tomatoes are packed with Vitamin A, which helps with eye health. They're also loaded with potassium, which assists in lowering cholesterol levels and blood pressure. Give tomatoes a try for an average price of $1.91/lb.
Additional vegetables available late summer to early fall:
Where and when can I get locally grown, seasonal produce?
You can find locally grown, seasonal produce at farmers markets and grocery stores.
Those 60 years or older in Central Indiana can apply for CICOA's Senior Farmers Market Nutrition Program. This program provides eligible seniors with a booklet of four $10 checks, totaling $40, that can be redeemed at participating farmers markets to purchase fresh fruits and vegetables. These checks can be used any time from Aug. 1 to Oct. 15.
---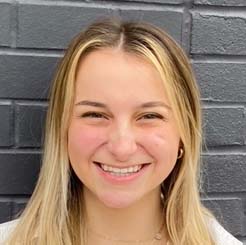 Emily Korte
Emily Korte is the CICOA Nutrition and Food Security VISTA. She has a bachelor's in nutrition and dietetics from Central Michigan University. In 2021, Emily served as Summer Nutrition Intern at Gleaners, where she implemented virtual and in-person nutrition education to children in the Indianapolis area. Emily brings this nutrition knowledge to the Meals & More department where she assists in implementing nutrition education and promoting the Senior Farmers Market Nutrition Program. In the fall, Emily plans to attend Northern Illinois University to pursue a master's in nutrition and dietetics with a certificate in public health. After graduation, she plans to become a Registered Dietitian Nutritionist and pursue a career in which she can provide nutrition education and advocate for food assistance programs throughout the United States.